10 Most Common Questions about a Galapagos Cruise
As the destination manager for our Galapagos expedition cruises, I've been asked every questions under the sun about what the experience is like. Fortunately, having participated as a guest on one of our cruises myself, I can answer them all. Of course, there are several questions the come up more often than not, especially from cruising newcomers, who usually have more excuses as to why they've never sailed than there are ships at sea. If your idea of cruising is the Titanic or a giant ship like the Love Boat, let us introduce you to Expedition Cruising in the Galapagos Islands—an altogether different kind of cruise experience.
So, what is it like exploring these unique islands on a small, luxury yacht? I've compiled this list of the 10 most common questions (and answers!) about our Galapagos cruises!
Is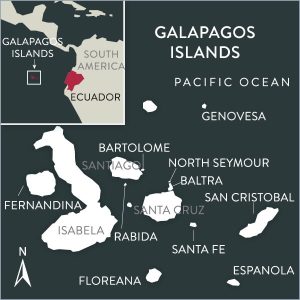 cruising expensive?
Remember that your cruise fare includes your accommodations, all meals, at least two daily excursions, an expert naturalist guide, and in some cases nighttime entertainment—not to mention transportation from island to island. When you factor in all of the costs you'd incur on a land vacation, you may discover that you can actually save money by booking a cruise.
Are all Galapagos cruise ships alike?
Our ships come in a variety of personalities. For a more intimate experience, cruise on one of four exceptionally stylish vessels for 16-passengers. Or you may be interested in our larger 48-passenger yacht offering generous accommodations, while preserving the atmosphere of a smaller yacht.
Will I be waiting in line to see the wildlife?
Nothing could be further from the truth. The yachts have different itineraries so it's unlikely your visit will coincide with that of another ship. Additionally, there are never more than 16 passengers per guide—often fewer, and on the island your group will follow a different route than the other groups on your ship. You will be able to get up close with the wildlife while respecting their need for space.
Is cruising like going to a resort?
Well, yes—and no. These ships have all the comforts and luxuries associated with on-land resorts, however—and this may seem obvious but needs to be mentioned—you are afloat. You may be traveling from one island to another during the evening, and your cabin will be smaller than a hotel room (unless you book the highest level of suites).
Isn't cruising just for the "Newly Wed and Nearly Dead"?
Not in the Galapagos! Our guests are energetic, savvy travelers ranging in age from 5 to 85. Each day brings a variety of exciting expeditions such as snorkeling with sea lions, swimming with sea turtles, visiting with giant tortoises or iguanas, or taking a zodiac ride along the coast. This is an engaging and enlightening experience.
Will I get seasick? 

While the ships are so well-stabilized that you can hardly tell you're moving, if you do pass through rough water, any queasiness can usually be relieved by an over-the-counter medication like Dramamine or Bonine. If you are very prone to seasickness, ask your doctor for the best solution for you. Alternative remedies include ginger capsules and acupressure wristbands.
Are there special options for families with small children?
The Xperience has special family departures for children age 4 and older, and when there are a number of children on board, the crew organizes special daily expeditions for them. On regularly scheduled departures, children 7 and older are welcome. There are usually evening activities, board games, and movies for children to enjoy. All boats offer discounts on accommodations and internal flights for children under 12.
Will there be time to relax?
Plenty! Although the day begins early with your first excursion, you are often back to the boat by 11am with an hour to relax before lunch. You'll typically have 2-3 hours after lunch to read, sunbathe on the deck, or nap before your afternoon excursion. When you return to the boat in the late afternoon, there will be ample time to relax and shower prior to dinner. After an early evening briefing and dinner, the rest of the night is yours to enjoy!
What is the food like?
You will be treated to delicious fresh meals from the ship's cooks and perhaps caught off the side of the boat that morning! There are always a variety of Ecuadorian and international options with lots of vegetables and fruit. Many meals are buffet, to ensure your food is warm and you only get what you want.
Can I stay in touch?
On most ships, you can make emergency phone calls from the captain's phone, and you may get cell reception in certain spots, as well (roaming charges apply). When you dock at Puerto Ayora, there are internet cafes you can use. But many of our guests take this opportunity to simply unplug and enjoy the views!
Do you have other questions that weren't on this list? Feel free to email me at deborah@boundlessjourneys.com, I'm happy to chat about all the different boat and itinerary options.