2 Days in Dublin
Dublin is a vibrant city that brings the past to life while fusing it with our modern era. There certainly isn't a shortage of things to keep you occupied for a couple days before or after your Boundless Journeys Ireland tour. In fact, you could easily spend 3 or 4 days taking it all in at a leisurely pace. Here are our recommendations for some of the quintessential attractions everyone must visit while in Dublin, as well as a few more off-beat and unique experiences.
Day 1
To have a truly meaningful understanding of the beautiful country that you've decided to explore, it definitely helps to learn about the history. And Ireland has a lot of it. Start at the National Museum of Ireland – Archaeology, which houses local archaeological finds from the Bronze Age forward, including Viking artifacts and the amazingly well-preserved bog bodies. You'll get a good breadth of information spanning a large chunk of time, and the bog bodies are just plain cool.
If you're intrigued by Dan Brown novels, you can take a guided tour of Ireland's Freemason Grand Lodge, which is just a block from the archaeology building. Tours are led by members of the society, who are quite open about what they are about and what goes on there.
Continuing along, you'll find The Little Museum of Dublin near St. Stephen's Green, which tells the people's history of Dublin. It's had much praise recently as one of the best museums in the city, and though small, it packs a punch, mostly in the form of documents, photographs, and pop culture artifacts. It's a great little find, but if it doesn't sound like your thing, take a stroll through the lovely St. Stephen's Green. A gem of park—like a teeny, tiny version of Central Park.

Grab some lunch along the pedestrian-only Grafton Street as you make your way to Trinity College, perhaps Dublin's most popular place (and for good reason). It has one of the most magnificent libraries in the world, the Long Room, filled with 200,000 of the Library's oldest books. In addition, the Library is home to the Book of Kells, a medieval manuscript famous for its extraordinary artistry and preservation.
If you want to see more rare books and manuscripts or simply don't want to wait in line to see the Book of Kells, a 15-minute walk west will bring you to the Chester Beatty Library. This library-cum-museum has rotating exhibitions but also permanent displays of Ancient Egyptian papyrus, Chinese jade books, Japanese scrolls, a history of book-bindings, and more. It's a fascinating collection and is much less well-known than the Long Room, so there will most likely be far fewer people.
Take the rest of the afternoon and relax back at the hotel or go for a luxurious afternoon tea at the Westbury Hotel between 12:30 and 5:30pm. For dinner, Dublin is full of exceptional restaurants, and your hotel concierge will be able to point you in the direction of something that will suit your taste.
Day 2
Today's the day to explore a little further afield. Personally, I find old prisons fascinating, so it would be off to Kilmainham Gaol for me. From 1796-1924, this prison held (and executed) everyone from ordinary petty thieves to murderers and leaders of rebellions. Some of its prisoners were destined for Australia. It's an eerie but intriguing side of history. The Gaol is a bit outside of the city heading west, so I would recommend taking the short, 10-15 minute cab ride there and walking back via the Guinness Storehouse. If you're truly not a fan of Guinness nor really touristy places, skip it, and find a pub to try another local beer. Believe it or not, there are other beers in Ireland besides Guinness. Look out for these top craft brews: Kinnegar's Devil's Backbone amber ale, Rascal's Ginger Porter, Metalman Pale Ale, Eight Degrees' The Full Irish single malt IPA, and The White Hag's Black Board imperial oatmeal stout.
Whether or not you choose to stop off at the Guinness Storehouse, you can continue to St. Patrick's Cathedral, the National Cathedral of Ireland.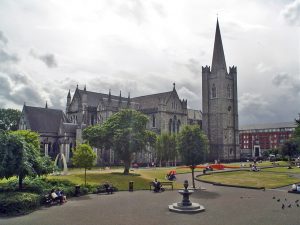 Not only is it a remarkable building architecturally, but the history of the site and Saint Patrick are worth learning. After all, St. Patrick's Day is more than just leprechauns and green beer. There are free guided tours Monday-Saturday at 10:30am, 11:30am, 2:30pm, 3pm, and 3:30pm. Some interesting things of note: Jonathan Swift, author of Gulliver's Travels is buried at the cathedral, and there was once a well at the site where it is believed that Saint Patrick baptized people 1500 years ago.
If you happen to be in Dublin on a Saturday, I highly recommend heading to the Temple Bar Food Market. It's open from 10am to 4:30pm only on Saturdays, and you can find all sorts of wonderful treats from cheeses to oysters, fresh juices, crepes, cured meats, and even Mexican food.
You could easily spend an hour or two just wandering and tasting, and tasting and wandering. If it's not a Saturday, the riverside Temple Bar neighborhood is considered the cultural heart of Dublin and definitely warrants a leisurely exploration.
On the way from St. Patrick's Cathedral to the food market, go by way of Christ Church Cathedral to visit the medieval crypt. It's the largest crypt in Ireland and houses Ireland's first copy of the Magna Carta, as well as the affectionately-named "Tom & Jerry"—an odd exhibition of a mummified cat and rat.
Finish your day with a reservation at Ireland's only 2 star-Michelin Restaurant, Patrick Guilbaud. You will not be disappointed.
Alternative options:
There are a few companies that offer bike tours around Dublin. It's a flat city and the pace is very casual. You'll get a good feel for the city and some history and stories, to boot.
If you're a literary fan, the Dublin Writer's Museum is a cab-ride just north of the city center or Oscar Wilde's House is within walking distance from Trinity College.
For art fans, the National Gallery has some masterpieces of the European school, and you might want to see what's on at the National Concert Hall for an evening out.
Dublin Castle is also an extremely popular place to visit. The most interesting thing I found was that it's built on top of Viking ruins. The place has been modernized, as it is currently used for government affairs, but the interiors are quite beautiful. The tour guides are knowledgeable, but the groups can be large.
And if you're like me, and love to feel like you've stepped back in time, go to House Number 29. This Georgian House Museum is set as it would have been between the years 1790 and 1820 for a upper class family. Immerse yourself temporarily in another era—top hat or corset optional.
For accommodations, you can't go wrong with the 5-star Merrion Hotel located in one of the finest restored Georgian buildings in Dublin and centrally located near Trinity College, the National Gallery, and Grafton Street. Indulge in a spa treatment, take a dip in their infinity pool, and then go for afternoon tea.
For something a bit more intimate, Hotel Number 31 is a chic, award-winning bed-and-breakfast set in a classic Georgian townhouse. They consistently get rave reviews for their breakfasts, and their rooms are warm and homey.
We're sure that you'll fall in love with Dublin. And your excursion to this beautiful and lively city will be wonderful juxtaposition to the quaint villages and country trails on your Boundless Journeys tour.
Enjoy!