2 Days in Quito, Ecuador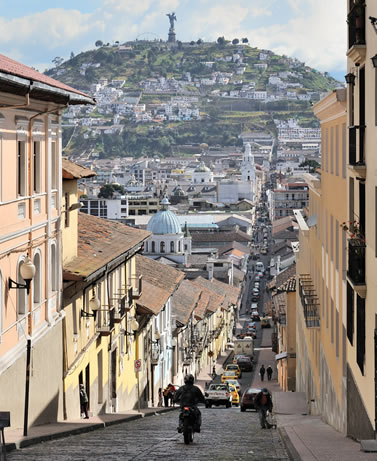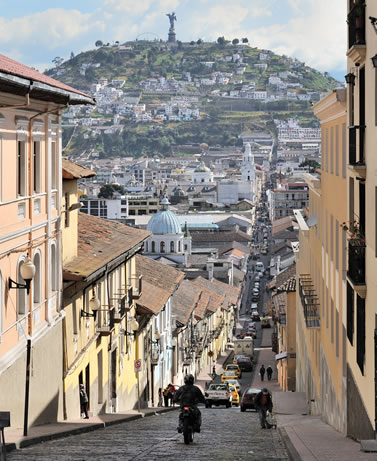 If you're heading to the turquoise waters, pristine beaches, and rare wildlife of the Galapagos Islands, you may find yourself in Ecuador's capital city of Quito before and after your expedition cruise. As one of only two cities with connecting flights to the Galapagos Islands, Quito is usually the least expensive destination for international flights, with a few nonstop routes from Miami, Atlanta, and Houston.
More importantly, however, it's a fantastic place to experience the history and culture of this country. The 16th-century Spanish colonial architecture belies its ancient roots—dig below it and you'll find Incan ruins. It's a designated UNESCO World Heritage Site, and at 9,350' above sea level, it's the highest official capital city in the world, for those who like geopolitical extremes.
Quito is easily navigable thanks to its grid layout, so if you have a day or two for exploring, here are our suggestions:
Day 1
To get acquainted with the city, take a walking tour of the restored Old Town, considered one of the best-preserved colonial centers in Latin America. It's a great way to help orient you to the city, and you're sure to learn all sorts of fascinating things from your guide. We can help arrange this with our local team.
If you'd rather meander at your own pace, the Museo de la Ciudad is a good starting point. Housed in a restored hospital just east of Plaza de Santo Domingo, it offers a journey through the customs, people, and traditions of Quito through its displayed historical memorabilia.
From the museum, it's a short walk to La Ronda, a quaint, cobblestoned, pedestrian-only street where you can sample the street food, sit at a café, or just wander past colonial houses, specialty shops, and art galleries.
In the evening, head to Plaza Santo Domingo, where the light from the floodlit church domes welcomes everyone. This is where the locals go to hang out and be entertained by street performers. A great way to soak up some modern culture!
Day 2
And you should definitely indulge in the delicious Ecuadorian cuisine. We recommend:
Theatrum Restaurant & Wine Bar
On the 2nd floor of the historic Teatro Sucre, creative dishes of traditional regional cuisine are served in a theatrically set dining room with heavy curtains and red and black velvets. For pure decadence, try the tasting menu and take part in a traditional Andean ritual of the community table.
Tianguez
Tucked into the stone arches beneath the Monastery of San Francisco, this café-crafts shop prepares tasty appetizers and heartier mains. Tables on the plaza are perfect for people-watching with an evening cocktail or an afternoon té de coca (yes, the same leaf from which cocaine is made, but the effect of the tea is like caffeine, and it's used medicinally by the people of the Andes, just don't try bringing it home).
Hasta La Vuelta Senor
Ecuadorian cuisine is prepared with panache at this excellent restaurant with balcony seating. Reliable favorites include ceviche, secos de chivo, tilapia, and sea bass.