Easier Access to Galapagos Cruises
Aerogal direct flights to the Galapagos Islands
Getting to Ecuador Just Got Easier
Now it is easier to get to Ecuador than ever before. Aerogal airlines just introduced nonstop daily flights to Ecuador from NY's JFK airport. The 24-year-old carrier's new route extends its range from domestic flights, plus nonstop links with Miami and Bogotá, with its new "Big Apple" service. AeroGal Flight 901 departs JFK's Terminal 4 at 11:59 p.m., arriving in Guayaquil at 6:29 a.m. The return flight from Ecuador's prime port departs at 2:30 p.m., landing at Kennedy at 8:40 p.m. AeroGal operates its New York connection with a 210-passenger Boeing 767.
Why put Ecuador on your must-see list?
Ecuador is among the most rewarding travel destinations in South America. With its array of vibrant indigenous cultures, well preserved colonial architecture, otherworldly volcanic landscapes, pristine islands, and dense rainforest, it packs its perimeters with more points of interest than many countries twice its size. With Boundless Journeys expert local guides you can swim with sea lions, hike up volcanoes, visit the famous Otavalo market, snorkel with sea turtles three times your size, and relax in charming seaside hotels or on a deluxe yacht each night.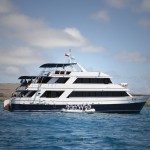 If you Choose to Cruise
Boundless Journeys' Cruises offer an up close and personal experience with small, deluxe yachts ranging in size from 12-48 pax. Each tour begins in your choice of Quito to Guayaquil, followed by 8-days out at sea. During this time you will encounter incredibly rare and beautiful wildlife with an expert naturalist guide. Days are filled with opportunities to snorkel, hike, swim, kayak, or just relax on deck. Evenings are spent debriefing the day, dining al fresco on delicious local and international cuisine, and letting the ocean gently lull you to sleep.
If you Prefer Land
Boundless Journeys' Explorer's Galapagos is for those individuals who crave a variety of nature walks, snorkeling, kayaking, and small-boat excursions with the comfort of charming, land-based accommodations each night. Activities on this itinerary include a hike up Sierra Negra volcano, snorkeling among tropical fish, penguins, and sea lions, hiking in the highlands, and visiting a giant tortoise breeding center in San Cristobal Island. This is a perfect option for families.
The Highlands
Get to know more about the local people and landscape of Ecuador with a visit to the highlands. Boundless Journeys offers 4-day tours to Otavalo and the northern highlands, and 3-day tours to Cuenca and the southern highlands. On these tours experience the ruggedly beautiful countryside, tour Inca ruins, and shop at traditional indigenous markets.

For more details please call Boundless Journeys Galapagos destination manager Deborah Tobey at 1-800-941-8010, or e-mail deborah@www.boundlessjourneys.com.
Join Our Inner Circle
E-mail is the best way for us to let you know first about new trips, travel tips, special events, and current promotions. Sign up for our e-newsletter, e-mail your name and address to info@www.boundlessjourneys.com, or give us a call (800-941-8010), and we'll keep you in the loop! We respect your privacy and will never sell or share your e-mail address with any third party company, and our unsubscribing process is easy and prompt.