Exploring Killarney National Park on an Ireland Walking Tour
While you expect Ireland hiking tours to deliver on nature, culture and community, few take the time to explore the Killarney national park in sufficient depth.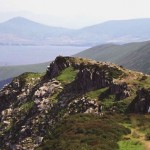 It's a very special place. With 26,000 acres to enjoy, much of it woodland, the park is a national and environmental treasure. The park has three main lakes: Lough Leane (lower lake), Muckross (middle lake) and Upper lake. From their shores rise Purple and Tomies mountains and nearby, the highest mountain in Ireland, Carrantuohill.
An Ireland walking tour to this park will see you pass through a natural space defined by woods and waterfalls, as well as lakes and mountains. Red deer still roam its mountain's slopes. There are Evergreen, Oak and Yew woods; such environmental value has long been recognized by UNESCO, which awarded the national park with biosphere status back in 1981. Perhaps the best way to appreciate this space is from the surface of the lakes. Drifting across the black still waters with cumulus clouds billowing overhead, you can't help to feel closer to this authentic, unspoilt Irish landscape. Looking up from the lake to the hilltops and forests, you can spot Strawberry Trees, rarely seen outside of the park and one of the country's rarest native species. Out on the ground, there's the Irish Spurge and Saint Patrick's Cabbage to watch for, and the altogether brighter and deadlier Greater Butterwort, a purple, insect catching bog dweller.

Ireland has 800 lakes, but also a dramatic chalk coastline that begs to be discovered. It's partly this combination of elements that helps earn Ireland its fine reputation among walkers. Here, the going is rarely flat for long. But with the renowned Irish hospitality to look forward to, the miles you hike will only lead to more smiles.
Boundless Journeys offers scheduled hiking tours that explore Killarney National Park…learn more: Ireland: Gems of the Emerald Isle
About Boundless Journeys
Boundless Journeys is an award-winning small group adventure tour operator, selected as one of the "Best Adventure Travel Companies on Earth" by National Geographic ADVENTURE; and a "World's Best" tour operator by Travel + Leisure.
With a diverse collection of locally guided, small group itineraries and Private Collection trips around the world, Boundless Journeys offers "The World's Great Adventures." The adventure trips for 2-16 guests are active, ranging from leisurely cultural explorations and wildlife safaris to challenging trekking in remote regions ― with plenty of easy to moderate walking and sea kayaking in between.