India Adventure Travel ~ A Sensory Extravaganza
India's Royal Rajasthan ~ Land of the Maharajas
"So far as I am able to judge, nothing has been left undone, either by man or nature, to make India the most extraordinary country that the sun visits on his rounds. Nothing seems to have been left forgotten, nothing overlooked." -Mark Twain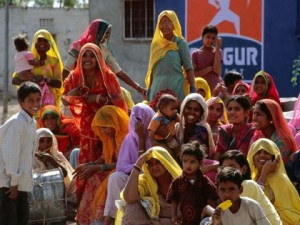 I am often asked what my favorite adventure travel destination is. It's always a question that is virtually impossible to answer, but one that always brings me to thoughts of India. India is without question one of the most incredibly diverse and amazingly unique countries on this planet. Nowhere have I have encountered such an assault on all of one's senses, some extraordinary, and some not so great. The sites, the sounds, the smells, and the tastes are all overwhelming.
I have traveled to India many times, and each time I do there is an adjustment period. I've seen it all before, but I'm always lured to return. Each trip to India begins the first few days with me trying to remember what it is I like about the country. The sea of humanity in India is about as far removed from my home in rural Vermont as can be imagined, but perhaps that in itself is indeed the reason. It's important for us all to step outside our comfort zones and discover the world around us, as well as more about ourselves. India provides even the most seasoned adventure travelers with challenges. Without fail though, after a few days I always settle in to the daily rhythms of life in India, and this is indeed when the smallest of treasures reveal themselves. The smiling faces of rural Rajashtanis in the photo to the left is just one of them.
With as large a country as India is, it's important explore one region at a time. It would take months to visit the whole country properly, so I have always divided my travel into sections. Previous trips have included explorations of the Himalayas in the North, Kerala in the South, and Rajasthan in the West, to name a few. My most recent, and perhaps most interesting trip was to Rajasthan.
Rajasthan, the Land of Kings, is India at its most colorful and exotic. In Rajasthan, there are reminders everywhere of an era when warrior-kings ruled the land. Palace hotels, rambling ancient hill forts, and shopping for jewelry fostered by those bygone rulers. Men in neon yellow turbans with soup-strainer mustaches vie for attention with women wrapped in saris of screaming orange and flaming magenta. Traditional desert culture is one of Rajasthan's enchantments and a camel treking provides a glimpse into rural Rajasthani culture and the traditions of the Thar Desert. My journey through India took in the wonders of Jaipur and Jodphur, explored the Thar Desert by camel back, and visited the Taj Mahal at sunrise. By the time my journey was complete, I no longer questioned why I loved this country so much, but was instead firm in my conviction that I would return someday soon to discover yet another hidden corner of this amazing country.
To get a quick sense of the wonderful craziness of India, view Rudy Maxa's short (2-3 minutes) videos below. For a more in depth exploration, join Boundless Journeys on our India: Royal Rajasthan tour.
Rudy Maxa in Jaipur
httpv://www.youtube.com/watch?v=aw0oi8bJg3I&feature=PlayList&p=059F1C71A6E35C77&index=15
Rudy Maxa in Delhi & Agra
httpv://www.youtube.com/watch?v=-BbOJWkbRz4&feature=PlayList&p=059F1C71A6E35C77&index=3