Tales from the Trail: The Galapagos Islands
A Distinctive Sense of Place: Boundless Journeys arrives in Ecuador
On my first day in Ecuador, I toured the fascinating city of Quito. This extraordinary city is located in north-central Ecuador in the Guayllabamba river basin, on the eastern slopes of Pichincha, an active volcano in the Andes mountains.
We began our tour at the Cultural Center Itchimbia, an antique metallic structure with a spectacular view of colonial downtown. Itchimbia means "Sacred Hill of the Radiant Sun". Standing at over 9500 ft. with a view of the Virgin Mary overlooking this equatorial city, it is clear how visitors to this mountain top might feel a spiritual connection to the sun.
Next, we went to Old Town, where a revitalization campaign has restored historic buildings and attractions. We visited a number of monestaries and churches, where I was enchanted by the immense paintings, Spanish and Incan architecture, statues, and large open air courtyards. At the San Francisco Monestary, I was able to walk through a number of "secret" passageways to the rooftop. With careful footing, I marveled at the view of all of the other bell towers in town, children playing in the courtyard below, and merchants selling their colorful handmade wares.
View of Quito from Itchimbia
We walked along the once rough-and-tumble lane of bordellos called La Ronda. This area has reclaimed its 19th-century splendor as a pedestrian-only circuit of galleries and cozy cafes. After a few hours of walking through this hilly town, we were rewarded ourselves with a tall glass of freshly squeezed fruit juice, a local favorite.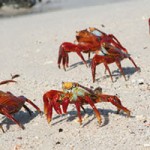 The next morning, I boarded a flight to the Galapagos Islands. Once in Baltra, we took a short bus ride to a panga (Spanish for dingy), which transported us to our home for the next five days – a luxurious 48 passenger yacht, the Eclipse. After a quick safety drill, we were transported to our first destination on Santa Cruz Island, Las Bachas Beach. After a long winter in Vermont, this was pure bliss! We walked barefoot along a gorgeous strip of white sand beach with turquoise water, while brilliantly red Sally Lightfoot crabs, and marine iguanas welcomed us to the islands.
Sally Lightfoot Crabs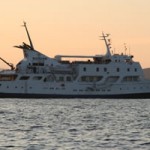 Each day that followed went something like this: Rise & shine at 6:45am, breakfast at 7:00, our first excursion between 7:30 and 8:00. We were back to the boat by 11:30 for a refreshing snack, followed by lunch at noon. A delicious buffet lunch was often served al fresco on the back deck, followed by sunbathing, reading, or a siesta. Afternoon departures were between 2:30 and 3:00. Each day we options: snorkeling, kayaking, walking, swimming, or relaxing on the ship. At 7pm we had a briefing of our day, with a preview of what the next day had in store. Led by our expert naturalist guides, each briefing was complete with a slide show, an educational piece on the wildlife or landscape, and cocktails.
The Eclipse at dusk
On the morning of day two, we visited Puerto Egas on Santiago Island. We landed on a black sand beach, and began our walk to a dry interior where the remains of a salt mining enterprise can be seen. The trail continued along the coast where black lava archways and bridges were a magnificent contrast to the turquoise water below. We visited Darwin's toilet, where water floods in a large cavern in the rock and then "flushes out" as the tide regresses.
After this walk, we had the opportunity to snorkel off the coast with many tropical fish, and sharks! Yes, white-tipped reef sharks. I was able to keep my cool as everyone around me seemed relaxed, but inside I hoping it wasn't lunchtime for these creatures. As it turned out, they had no interest in us, and continued about their business swimming close to the ocean floor. This afternoon, we went snorkeling at Pinnacle Rock off Bartolomé Island. There we were treated to more visits with sharks, penguins, and tropical fish. Galapagos penguins are masterful divers as they swiftly swoop down under you in search for food. After a quick change of clothes back on board, we took a short panga ride to a dry landing for a climb to the highest point on Bartolomé Island. A worthwhile climb up 300+ stairs, led us to a stunning view of Pinnacle Rock and Sullivan Bay.
On day three, we visited Cerro Dragon (Dragon Hill) on Santa Cruz Island. The orange and yellow land iguanas we saw here looked as if they were 500 years old. Slow moving to conserve energy, these mighty animals eat primarily cactus flesh. We learned they are territorial creatures as we saw two iguanas engage in a fight for some prime real estate.
In the afternoon, we cruised to Rabida Island, a small island with red volcanic rocks and a red sand beach. Here we snorkeled with sea lions, sharks, small sea turtles and even spotted a stingray. The sea turtles seemed to be the most curious of all, swimming up to look at my face, before ducking under me. At first, this was a bit daunting, as these turtles seemed more interested in me than my snorkeling companions!
In the late afternoon, some of us enjoyed kayaking around Rabida Island, and watching a sea lion pup nurse on the rock next to his mother. The bull (dad) was quick to jump in the water and form a barrier between us and his pup with loud barking noises. We also spotted many of the infamous Blue Footed boobies and pelicans along the shore.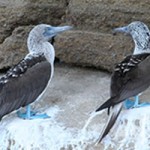 The next morning, some of us went for a power hike before breakfast to see Darwin Lake and Darwin Crater on Isabela Island. It was nice to be up before the heat of the day set in and get some exercise. After breakfast, we took a panga ride along Tagus Cove where waves crashed into a magnificent rocky shoreline, and a variety of birds were taking flight. We saw many Blue Footed boobies, penguins, Brown noddies, and pelicans. In the afternoon, we continued on to Elizabeth Bay, where a panga ride took us to a wonderful mangrove ecosystem where we spotted sea turtles and manta rays swimming in the sheltered cove.
Blue Footed Boobies
Day five was my last day on the cruise, and the most spectacular. Today we visited Fernandina Island, one of the most remote and pristine islands in the Galapagos. Here we spotted many playful sea lion pups with their mothers, as well as vast colonies of marine iguanas piled on top of one another with their heads tilted towards the sun. As the morning hours wore on, these iguanas made their way to the coast and one by one scooted into the water, as if they had numbers and had formed a line. We also got to see one beautiful sea turtle sleeping on the shore seemingly unaware of all the spectators taking her photograph.
This afternoon we had the chance to snorkel with sea turtles off the coast of Punta Vincente Roca on Isabela Island. These sea turtles, too numerous to count, were as mellow as can be (think Crush in Nemo) floating with the waves, hardly moving their flippers at all. They were quite large – perhaps 4 feet around – and appeared indifferent to our presence. Later on, however, we did come across a sea lion who enjoyed coming as close to us as possible with each dive into the water. On our short panga ride back to the boat we saw manta rays, sunfish, and a colony of Blue Footed boobies dancing on a hill (apparently doing their mating dance).
A young Marine Iguana climbs up to say hello
I returned to my corner of the world feeling as though I had been away for months. The austerity and remoteness of the Galapagos Islands, coupled with the unique wildlife that fear no predators, makes this one of the last great wild places. Boundless Journeys offers Galapagos Islands land-based tours and Galapagos Islands cruises to this unique archipelago with expert naturalist guides. Join us July 25 – August 2, and take advantage of our family discount. For more information, call 1-800-941-8010, or click here. This is no ordinary summer camp!