The Summer Work Outing—Boundless Journeys-Style
Ah, the summer work outing. That time-held, company morale-inspiring tradition that offers employees a chance to escape the office for a few hours, enjoy some (hopefully) sunny weather, and take in the local sights—usually accompanied by some watery lemonade, a charcoal barbecue, and a few picnic tables. But that was your grandmother's work outing. This is Boundless Journeys!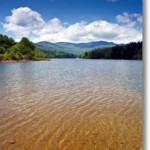 As the newest member of the team, I'm quickly learning that there are a few essential elements that make up the Boundless Journeys team outing—namely the Vermont outdoors, some heart-pumping exercise, and perhaps a local craft beer—and my first day out with the crew earlier this month was no exception. We left the office after lunch, and made the short drive down the road to the Waterbury Reservoir, an 850-acre water body adjacent to Waterbury Center State Park. There, the team rented paddle boards and set off along the reservoir for a few hours of sun and adventure. The clear skies and near 90-degree temperatures made for ideal conditions as we leisurely followed the slow curve of the shoreline, breaking occasionally for some swimming and a couple of (failed) attempts at a board-to-board Frisbee toss. When we rounded a bend and stumbled across some kids making use of the local cliff jumping spot, we—naturally—joined them. After all, what team-building exercise is complete without a little adrenaline to raise the stakes?

At Boundless Journeys, we strive every day to create outstanding travel experiences for people with an adventurous spirit. And it's not just what we do, it's how we live—getting the most out of the places we visit (including our own Vermont backyard), pushing ourselves a little, and having lots of fun along the way.
About Boundless Journeys Boundless Journeys is an award-winning small group adventure tour operator. With a diverse collection of locally guided, small group itineraries and Private Collection trips around the world, Boundless Journeys offers "The World's Great Adventures." The adventure trips for 2-16 guests are active, ranging from leisurely cultural explorations and wildlife safaris to challenging trekking ― with plenty of easy to moderate walking and sea kayaking in between.