Top 10 Galapagos Cruise Questions
Cruising newcomers usually have more excuses as to why they've never sailed than there are ships at sea. If your idea of sailing is the Titanic, or perhaps the Love Boat, let me introduce you to Expedition Cruising in the Galapagos Islands.
1. Is cruising expensive? Remember that your cruise fare includes your accommodations, all meals, at least two daily excursions, an expert naturalist guide, briefings nightly, and in some cases nighttime entertainment-not to mention transportation from island to island. When you factor in all of the costs you'd incur on a land vacation, you may discover that you can actually save money by booking a cruise. 2. Are all Galapagos cruise ships alike? Boundless Journeys cruise ships come in a variety of sizes and personalities. For a more intimate experience, cruise the Alta, an exceptionally stylish and charming motorized sailboat for 16 passengers. Prefer a motorized yacht? Perhaps you would be interested in cruising on the 16 passenger Grace, briefly owned by millionaire tycoons like Sir George Tiley and Aristotle Onassis, as well as Princess Grace of Monaco. The Evolution, a 32 passenger yacht, has the classic and graceful lines of the 1920's with the comfort of today. If you think a larger yacht may be what you are looking for, the Eclipse, a 48 passenger yacht, offers the generous accommodation of a larger vessel, while preserving the atmosphere of a smaller yacht. 3. Will I be waiting in line to see the wildlife? Nothing could be further from the truth.  All of the yachts in the Galapagos have different itineraries which makes it unlikely that you will visit a site at the same time as another ship. Additionally, there are rules set up to preserve this fragile environment, such as no more than 16 passengers per naturalist guide – often there are less. Once you disembark, you take short panga ride to the island, and your group will follow a different route than the other groups from your ship. You will be able to get up close and personal with the wildlife while respecting their need for space.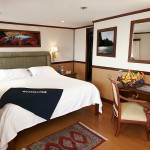 4. Is cruising like going to a resort? Well, yes-and no. These days, cruise ships do have all the comforts and luxuries that travelers associate with on-land resorts, however-and this may seem obvious, but it needs to be mentioned-you are on a ship. You may be traveling from one destination to another throughout the evening, and your cabin will typically be smaller than a hotel room (unless you book the highest level of suites). 5. Isn't cruising just for the "Newly Wed and Nearly Dead"? Not in the Galapagos. Our guests are hip, savvy travelers ranging in age from 5 to 85. Each day you will disembark on a variety of exciting expeditions, such as snorkeling with sea lions, swimming with sea turtles, visiting with giant tortoises or iguanas on the islands, or taking a panga ride along the coast. Every activity is optional and there are always a few to choose from. This is an engaging, and enlightening experience. 6. Will I get seasick? As for seasickness, Boundless Journey's ships are so well-stabilized that you can hardly tell you're moving, especially in the calm waters of the Galapagos. If you do happen to pass through some rough water, any queasiness can usually be relieved by an over-the-counter medication like Dramamine or Bonine. If you are very prone to seasickness, ask your doctor before you leave home for the Transderm patch, available by prescription. Alternative remedies include ginger capsules and acupressure wristbands, available at most pharmacies. Also, note that the purser's desks on most ships can provide rations.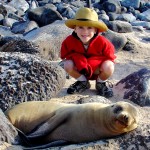 7. Are there special options for families with small children? The Eclipse has special family departures. On these departures children age 5 and older are welcome. On regularly scheduled departures children 10 and older are welcome. On the Alta, the Evolution and the Grace children over 5 years old are welcome on regularly scheduled departures. When there are a number of children on board, the crew will organize special expeditions for children during the day. There are usually evening activities, board games, and movies as well for children to enjoy. Additionally, the Eclipse has rooms with a double and a twin bed, so your child can stay in your room. All of the boats offer special discounts on accommodations, and internal flights for children under 12. 8. Will there be time to relax? Plenty! Although the day begins early with your first excursion, you are often back to the boat by 11am with an hour to relax before lunch. You will have 2-3 hours after lunch to read on your lounge chair on the deck, sunbathe, nap, or enjoy the view. When you arrive back at the boat in the late afternoon you will have ample time to relax and take a hot shower before dinner. After an early evening briefing and dinner, the rest of the night is yours to relax, or enjoy the provided entertainment. 9. Is the food going to be good? Each day you will be treated to delicious meals made fresh by the cooking staff, and perhaps caught off the side of the boat that same day! There are always a variety of Ecuadorian and International options, with many fresh vegetables and fruit. Many of the meals are buffet, to ensure your food is warm and you only get what you want. 10. Can I stay in touch? On most ships, you can make phone calls from the captain's phone, and in certain spots from your cell phone, as well. (Roaming charges apply.) When you dock at Puerto Ayora, there are internet cafes you can use.