6 Best Off-Grid Destinations
Once in a while, don't you wish you could just get away from it all—truly escape the everyday routine, disconnect, and not think about anything but the landscape surrounding you? Yes? Well then, check out these destinations:
Raja Ampat, Indonesia
While you'll be connected in Jakarta and Sorong, once you're out on the water, cruising through the outer reefs of the archipelago, you might as well forget about screen time (plus, you don't want to accidentally drop your phone overboard!). Our luxurious 8-cabin yacht does have Wi-Fi, but with unreliable connectivity and a very limited amount of free use, we recommend immersing yourself in the experience and leaving modern technology behind. After all, your days will be full of snorkeling in the crystal waters teeming with rare and colorful maritime creatures and relaxing on deck under the warm tropical sun.
Greenland
In Greenland, roads fade away not far outside idyllic towns, and boats are often the quickest and easiest means of transportation. It seems like an unlikely location to build a settle and build a life, yet Greenlanders thrive living in windswept valleys and coastal communities. While the hotels are modern and connected, once you leave town, you are leaving civilization and heading into an untouched wilderness—no powerlines or cell towers obstructing the view, and no sign of human presence whatsoever, except the occasional Viking ruin.
Chomolhari Trek, Bhutan
Like the off-grid experience of Palau, trekking to the base of the sacred Chomolhari Mountain is a truly remote adventure. Each day brings challenging, yet rewarding hikes over high passes and past glacial lakes and yak herds. At night, you'll be tucked among the soaring peaks in camp with a blanket of stars above you and your headlamp creating silhouettes from within your tent. For mountain-lovers who are intrigued by Bhutanese culture, this trek is the ultimate trip.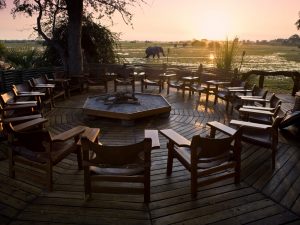 Okavango Delta, Botswana
Daydreaming about safaris conjures images of solitude while enjoying the sound of the wind rustling the long grasses and watching a heard of elephants loafing about. You can have this and more in Botswana's Okavango Delta, a vast region home to a magnificent diversity of animals. With small, boutique accommodations, the chance of seeing other people while out exploring is next to nil. Most camps and lodges do not have Wi-Fi or cell reception, but we don't sacrifice comfort to be off-grid—you'll enjoy sumptuous rooms, modern bathrooms, electricity, superior service, and talented camp chefs who prepare meals that are particularly impressive given the remote location.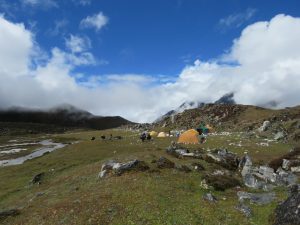 Ama Dablam Base Camp, Nepal
While hiking in the Everest region, you can opt for an extra day-hike from Pangboche to the Ama Dablam Base Camp. Ama Dablam is the third most-climbed Himalayan peak, and your guide will point out the climbing route along the southwest ridge. The base camp is located at an altitude of just over 15,000' on open yak pasture. If the trek coincides with the climbing season, you'll encounter climbing groups acclimatizing at base camp or fixing a route up the mountain. It is a fascinating introduction to the world of mountaineering. No electricity or running water except the river that meanders through the valley. You'll feel removed from anything resembling your normal.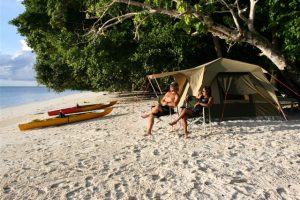 Rock Islands, Palau
Imagine a tropical vacation that is not just disconnected digitally, but requires the utmost sense of adventure as our full-service beach camps do not have electricity or running water (although gravity showers are available for rinsing). We often describe this as a Robinson Crusoe experience, although we do have camp cooks and a support boat. This is an opportunity to be totally off-grid and live by the natural cycles of the sunrise and sunset, enjoying them from a private, white-sand beach.