Inca Trail Trek to Machu Picchu – Permits filling quickly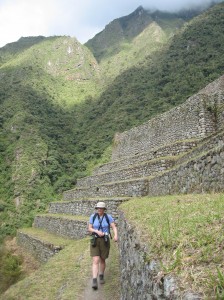 Inca Tail Trek to Machu Picchu
More and more, travelers who want to trek to Machu Picchu are seeking out alternative, less crowded and sustainably managed routes, where porters are more likely to be supported properly and the experience is an authentic wilderness trek away from the crowds of the 'traditional' Inca Trail.
Boundless Journeys' 11-day/10-night Peru: Trekking the Hidden Inca Trail trip follows ancient footpaths through the Andes on a 5-day trek to Machu Picchu. Choosing this alternative, and no less stunning route, allows Boundless Journeys' groups to use horses to carry packs, food, and camping equipment, rather than human porters (horses are not allowed on the traditional Inca Trail). The local arrieros (horse handlers) are gainfully employed, while working under humane conditions. Boundless Journeys' trekkers benefit from the luxury of being able to bring a bit more along, without overworking the support staff. Of course, trekking on an exclusive route that rarely sees foreigners is a compelling reason in itself for choosing Boundless Journeys' Hidden Inca Trail trek.

But as always, it's important to plan ahead for a trekking adventure to Machu Picchu. The Peruvian government places strict limits on the amount of trekkers on the Inca Trail at any given time, and for our final day of hiking into Machu Picchu, we need to obtain trekking permits for our guests. These trekking permits may sell out several months ahead of time. Your best bet to be able to hike into Machu Picchu on foot is to plan your trip about 6 months ahead of time. Feel free to call Boundless Journeys Peru Manager, Karen Cleary, at 1-800-941-8010 at any time with questions.