DISCOVERY OF TRADITIONAL AND MODERN JAPAN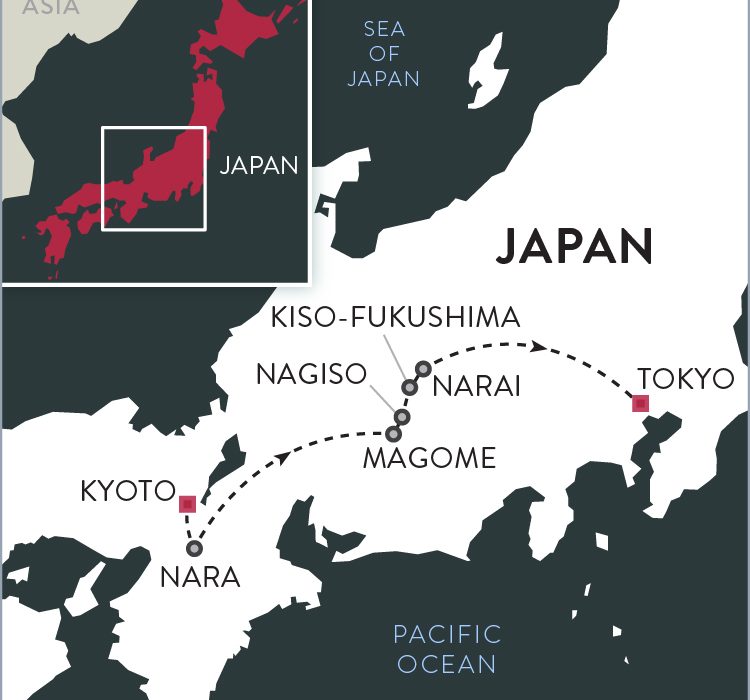 Let us introduce you to the real Japan, where ancient shrines and glass skyscrapers coexist in peaceful contrast and where the splendid cultural panoply complements the incredible natural beauty found away from the bustling cities.
On this journey, we'll discover Japan's rustic history and high-tech modernity, its warm hospitality and outstanding cuisine, and its unique culture and striking landscapes by exploring Kyoto and Tokyo before spending a few days walking The Nakasendo Trail, a historic inn-to-inn walking route that linked Kyoto to Tokyo during Japan's feudal period. This 'road through the mountains' was traveled by lords and their retinues, samurai, and merchants with 69 'post towns' where weary travelers could rest before continuing on their next leg. Join us to uncover traditional Japanese culture that few have the opportunity to experience.
Japan: Hiking the Nakasendo Trail Highlights
What Our Guests Have To Say About This Tour
Write a Review
Day 1
Arrive in Kyoto
The official start of our tour begins today with meeting the guide and the rest of the group in the lobby of our hotel in Kyoto.
Enjoy a welcome dinner at a local restaurant, which gives an introduction to the best of traditional Japanese specialties.
Accommodations
Royal Park Hotel the Kyoto
Kyoto, Japan
The Royal Park Hotel is located in Kawaramachi-Sanjon, the heart of Kyoto. Close to many popular tourist destinations, the hotel features a clean, modern design and an onsite restaurant and bar.
Day 2
Fushimi Inari; Zen Meditation
Activity Overview:

Walking

Activity Level:

Easy

Activity Length:

3-4 hours
Today we visit the stunning shrine complex of Fushimi Inari, which is famous for its many red torii gates. There are several gates and shrines spread across the entire mountain.
Next we visit Tofuku-ji Temple and its unique Zen rock garden. After lunch we will join a meditation session at a local temple to experience the tranquility and peace of this Zen Buddhist practice.
This evening is free to explore and dine on your own.
Accommodations
Royal Park Hotel the Kyoto
Kyoto, Japan
The Royal Park Hotel is located in Kawaramachi-Sanjon, the heart of Kyoto. Close to many popular tourist destinations, the hotel features a clean, modern design and an onsite restaurant and bar.
Day 3
Kurama to Kibune; Tea Ceremony
Activity Overview:

Sightseeing and hiking

Activity Level:

Easy to moderate

Activity Length:

4 miles, 2-3 hours
We begin this morning in the hills of northern Kyoto, on sacred Mount Kurama. Here, Samurai trained with mountain Buddhist practitioners in the 12th century. From Kurama Temple we hike to the Kifune Shrine, which is known for bringing good fortune to those seeking luck in love. Dedicated to the the local god of water, Takaokami no Kami, the shrine's proximity to the source of the Kamogawa River has made it both a spiritual place of healing and a popular escape from the heat of summer.
Our walk begins with a steep and long ascent up stone steps to the Kurama Temple. We'll stop to take in the beautiful scenery and spend time at the shrines and smaller temples along the way.
After lunch, we tour Nijo Castle, which was the seat of power for the Shoguns from the early 17th to 20th centuries. The castle has an inner and outer moat, and the central Ninomaru Palace is comprised of separate chambers connected by long halls and built almost entirely of Hinoki Cypress.
After our tour, we'll participate in a tea ceremony and hear about the traditions surrounding this ritual.
Accommodations
Royal Park Hotel the Kyoto
Kyoto, Japan
The Royal Park Hotel is located in Kawaramachi-Sanjon, the heart of Kyoto. Close to many popular tourist destinations, the hotel features a clean, modern design and an onsite restaurant and bar.
Day 4
Temples of Nara
Activity Overview:

Sightseeing and walking

Activity Level:

Easy

Activity Length:

3-4 hours
This morning we travel to Nara, which was Japan's first permanent capital and is second only to Kyoto in significance of cultural legacy. Nara is a compact city known for its eight UNESCO World Heritage sites, many of which are in or near Nara Park. A local guide will lead us on a walk through the park, known for its many spotted deer. According to legend, the god Takemikazuchi arrived in Nara on a white deer to guard the newly-built capital. Ever since, they have been regarded as holy animals and protectors.
Along our walk, we will pass by the Kasuga Taisha Shrine and see its hundreds of stone and bronze lanterns. We'll hike up Mount Wakakusama, which offers unobstructed views of the city, park, and temple complexes below. In the evening visit Todai-ji Temple, home to the largest bronze Buddha statue, known as Daibutsu in Japanese.
This evening is yours to explore Nara on your own, enjoy dinner, and relax.
Accommodations
Nara Hotel
Nara, Japan
Overlooking Nara Park, the Nara Hotel blends traditional Japanese decor and modern comforts. Features and amenities include beautiful wood ceilings, bamboo blinds, a bar, a lounge, and two restaurants.
Day 5
Hike Magome to Tsumago
Activity Overview:

Hiking

Activity Level:

Easy

Activity Length:

About 5 miles, 3 hours
Following breakfast, we travel via bullet train and a short journey on a local bus to Magome, where we begin our hike along sections of the Nakasendo Trail.
The central road through the mountains, the Nakasendo Trail was part of a network of ancient highways and connected Kyoto and Tokyo. Along the way, post towns known as Juku allowed travelers to rest overnight. This tradition is alive and well in its own way; family-run guesthouses, or Minshuku, still exist along the route and offer a chance to experience the Nakasendo Trail as it was walked for centuries.
Today's first hike crosses Magome Pass, one of the most challenging sections. Upon arrival in Tsumago, we will shuttle to our Japanese-style hotel for the evening. Tonight, we have the option of a traditional Japanese bath in the hotel's onsen.
Accommodations
Hotel Kisoji
Nagano, Japan
Hotel Kisoji boasts beautiful views of the surrounding mountains and is well-known in the region for its large, impressive onsen that is fed and warmed by the local geothermal hot springs.
Day 6
Kaida Kogen
Activity Overview:

Hiking

Activity Level:

Moderate

Activity Length:

About 4 miles, 5 hours
Today we hike around the Kaida Plateau, where we'll walk around a particularly beautiful part of the Nagano Prefecture. These beautiful higher elevation highlands offer views of Mt. Ontake in the distance and are home to native Kiso horses, of which only about 50 remain. Upon our arrival in the town of Kiso-Fukushima, we will visit a local brewery to learn about how sake is made. Sake is only brewed in the winter months, when the delicate koji molds can work their magic and provide the necessary fermentation.
We stay at a hot spring ryokan, a traditional Japanese inn, for the next two nights. As is common in ryokans, dinner will be elaborately prepared and presented, highlighting seasonal ingredients in local specialties.
This evening at our inn, we will have another opportunity to enjoy a traditional Japanese bath at the inn's onsen.
Accommodations
Komanoyu Ryokan
Fukushima, Japan
Day 7
Nagiso to Nojiri
Activity Overview:

Hiking

Activity Level:

Moderate

Activity Length:

About 7.5 miles, 4 hours
We hike a longer section of the Nakasendo today, which travels through small valleys, forests of bamboo and Japanese cedar, and unspoiled scenery.
We stop for a picnic lunch on the trail before continuing on our way, arriving in Nojiri where we will then transfer to our inn in Kiso-Fukushima. This evening, we'll enjoy a performance of Kisobushi songs — traditional folk songs from the Koso District of the Nagano Prefecture that are about the mountains, river, and people who live there.
Once again, we have the option to enjoy a soak at the inn's traditional Japanese onsen bath before or after dinner this evening.
Accommodations
Komanoyu Ryokan
Fukushima, Japan
Day 8
Hike from Yabuhara to Narai
Activity Overview:

Hiking

Activity Level:

About 4 miles, 3 hours

Activity Length:

Moderate
We begin with a short transfer from Kiso-Fukushima to Yabuhara via train this morning. We'll hike over the challenging Torii pass to Narai, which during the Edo Period marked the halfway point between Kyoto and Edo. Once known as "Narai of 1000 Inns," it was the most prosperous of the 69 post towns along the Nakasendo. Restored homes line the lonstreets, evoking a sense of the wealth that once set this village apart from others.
We'll have time to explore Narai before checking in to a traditional guesthouse for the evening.
Accommodations
Iseya Minshuku
Narai, Japan
Day 9
Sightseeing in Tokyo
Activity Overview:

Sightseeing

Activity Level:

Easy

Activity Length:

3-4 hours
After breakfast, we depart for Tokyo, as our time hiking the Nakasendo Trail has come to an end.
We'll end our tour with a day of sightseeing in Japan's capital, visiting the popular Asakusa shopping district seeing the Senso-ji Temple and Asakusa Shrine.
We enjoy our farewell dinner this evening to celebrate our successful journey!
Accommodations
Park Hotel Tokyo
Tokyo, Japan
Day 10
Departure
After breakfast this morning you can extend your time in Tokyo and explore the city independently, or transfer to the airport in time for flights home.
Please note that this is a typical itinerary, and actual activities may vary due to weather conditions, local events, and to allow serendipity to play a hand in your experience. Accommodations are as outlined in the itinerary, although we reserve the right to change these or the order visited should the need arise.
Back To Top
What To Expect
Trip Rating
Boundless Journeys' trips are designed for energetic and flexible individuals who like to be active and have a spirit of adventure and a positive attitude. This trip is rated 2+, easy to moderate, on a scale of 1-5 (with 5 being the most strenuous). Japan's fertile landscapes, rolling hills, and coastal paths offer elevations ranging from sea level to 5,000 feet. Our walks and hikes range from 1 to 5 hours (3 to 7 miles), on good trails and paved city streets. Elevation changes range from negligable amounts on our city walks, to an approximate 1000' ascent and 1500' descent on our most challenging days.
Preparing for this trip
It is very important that you realistically assess your physical condition with regard to the demands of this trip. The more well-prepared you are for the activities, the more you will enjoy yourself. As a general guideline, we suggest that you engage in easy to moderate aerobic activities (such as walking, hiking, jogging, or cycling) for at least 30-45 minutes several times a week for 4-6 weeks before the trip. If you live in a flat area, try to incorporate some stairs into your workout, or use a treadmill with varying incline capability (consult your doctor before undertaking any new fitness program). Please contact us if you have any doubts regarding your physical match with this tour.
Weather
Japan's average temperatures and weather patterns can vary greatly, with mountain climates and surrounding warm seas bringing rain and snow. Meanwhile, the western coasts are often rainy and windy while the Pacific coast sees dry, clear days. Summer is monsoon season, while spring and autumn tend to be the most pleasant.
The following are average temperatures you can expect during this tour.
You may obtain more detailed weather information at www. weatherbase.com.
Kyoto
Tokyo
Traveler's Responsibility
Trip participants have certain responsibilities to both Boundless Journeys and your fellow travelers. This includes understanding the conditions described in the trip itinerary and making sure it is appropriate for your interests and abilities, based on a review of the trip ratings, consultation with Boundless Journeys' staff, and perhaps your doctor. In addition, trip participants are responsible for preparing for a trip by undertaking the proper fitness training. At the guide's discretion, a participant may be asked to leave the trip if the guide feels that the person's further participation may be detrimental to the individual or to other trip participants. If you have any questions about the difficulty level of the trip you have chosen, please contact Boundless Journeys to speak with one of our Destination Managers.
Meeting Point
Our group will meet for an orientation and welcome dinner at the Royal Park Hotel, Kyoto.
Departure Point
The tour ends after breakfast on day 10 in Tokyo.
Traveling to and From
International Airfare (into Kyoto and out of Tokyo) is not included in the price of your trip. Please contact your local travel agency or the airlines directly to make any arrangements you may need. If you would like assistance booking airfare, Boundless Journeys can request flights from our travel agency partner.