5 Things to know for your first small-group tour
So, you've never been on a small-group tour?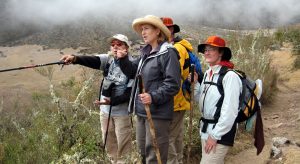 That's ok, neither had I, until I joined the Boundless Journeys home team. Most of my traveling was done after college as one of those solo backpacker-types. While I had a lot of fun, saw some amazing sites, and had life-changing experiences, I don't think I'll return to that way of traveling.
I didn't know what to expect for my first tour, but now that I have a couple under my belt, I thought I'd take the opportunity to help those of you thinking of joining us understand what it's like.
You'll enjoy spending time with like-minded people. Although strangers initially, you already have two things in common—you're interested in the same destination, and you like active travel!
Traveling with strangers isn't awkward, regardless if you're joining the group solo or as a couple. The first few minutes of meeting everyone is a flurry of introductions; by day 2, you'll be chatting like friends; and you may even hug good-bye on the last day. The immersive, shared experience of traveling together creates a unique bond.
You won't be hiking en masse—everyone walks at their own pace, stopping for pictures, taking in the views, or resting. While everyone stays within the immediate area, the group naturally spreads out—sometimes you'll be hiking with more people than others, and everyone congregates again for snacks and certainly for lunch!
Your guide's insider knowledge is invaluable. I had wrongly assumed that managing on my own with a creased map and dog-eared guidebook was the only way to travel—it's not. I can't fathom the amount of information I missed on my former travels because I didn't have a local guide with me. As useful as guidebooks are, nothing compares to having a real life, experienced person by your side.
The pressure's off! Your biggest decision of the day will be whether to eat dessert or not. Everything is taken care of, from transportation to restaurant reservations. It's refreshing to wake up in the morning, check that your day pack is ready, and go! Instead of thinking about logistics, you can just enjoy being in the moment while on the trail.
But don't take our word for it! If you'd like to know more about traveling in a small-group with Boundless Journeys, we have many previous guests who love sharing their experiences, and we'd be happy to make the connection. Give us a call at 1.800.841.9010 or email info@boundlessjourneys.com.