Interview with One of Our Bhutan Guides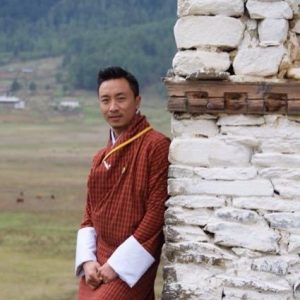 Mr. Wangchuk, as his fellow Bhutanese call him, was born in Thimphu and is deeply connected with his family—returning to his ancestral village every winter to attend a ritual ceremony. He has been guiding for more than ten years and has explored many of the rural valleys and villages of Bhutan. An avid hiker, excellent archer, and a passion for acting, he has, in fact, played parts in several Bhutanese films.
Mr. Wangchuk has a passion for facilitating guests' exploration of Bhutan, and the combination of his local knowledge and good-natured personality makes him a valued member of our Bhutan guiding team.
What first got you interested in a career in tourism?
I was always into history since my school days. I always enjoyed my Bhutanese history lessons, and as I grew older, it didn't take me long to decide to become an ambassador of the country as a tour guide to expose my knowledge to the visitors who wanted to visit and know Bhutan.
What makes Bhutan so special?
Bhutan is the only country in the world to be the first country to believe more in Gross National Happiness than Gross Domestic Product. Secondly, Bhutan and the Bhutanese are always protected by our guardian deities in the form of our beloved kings against the external influences, and we enjoy the peacefulness under the leadership of our kings.
What's your favorite thing to teach or show travelers about your country?
A question which I would love to write an essay on! My favorite things to show my travelers are the happiness we Bhutanese people enjoy with our contented mind, love for the country and king, believing in karma and gods, how to protect Mother Nature, and our preserved culture, because the pride that comes on my face when the visitors appreciate our culture and country is immeasurable!
What area or country would you like to explore?
New York City in the USA for sure. I grew up in a small county of a small country, and if I ever get a chance to explore, I would love to see the total opposite of that, which New York City is!
What do you enjoy most about guiding?
I enjoy knowing people who want to know Bhutan and interacting with people from a different part of the world with a different culture. I just love meeting new people. And my enjoyment starts from day one when I am guiding my guests.
What is your favorite food?
My favorite food is anything that I cook (just local Bhutanese food). If I have to name one, it's known as "kewa datshi" potatoes with chilis and cheese.
Do you have a personal motto that you try to live by?
My personal motto is quite simple: "life is short, smile, and stay contented."