Tales from the Trail: Tour du Mont Blanc Inn-to-Inn Hiking Tour
France, Italy, and Switzerland: The Tour du Mont Blanc
by Mary Jane Hammond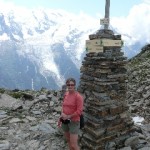 My curiosity was piqued some years ago while guiding groups of hikers in the Canadian Rockies. On the trail a favorite topic of conversation is other hiking trips that guests have taken. The Tour of Mt Blanc was mentioned enough times that it made it onto my top ten wish list. The fact that past participants spoke of challenging terrain combined with eye-popping alpine scenery made it sound too good to be true.
Having just completed the full 10 – day circumnavigation of Mt. Blanc, I can attest to the above. The combined elevation gain adds up to two climbs of Mt. Everest in 170 kilometers of walking. Spectacular is an understatement. While the route is challenging, taken day by day it is not beyond any fit person's capability. The magnificent scenery is well worth the effort, not to mention the unique opportunity of being able to walk in a circle from France to Italy to Switzerland and back to France in one vacation.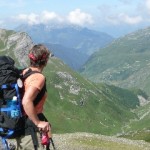 The size and scope of the Mt Blanc massif is hard to comprehend when looking at a map. As a resident of one of the most beautiful mountain landscapes in the world, I wasn't prepared for the uninterrupted breath-taking vistas of glaciers and peaks – close enough to touch, it seemed. The history of these mountain trails is significant. Roman roads and bridges are still part of today's route. Salt merchants used the same passes in medieval times, and pilgrims have trekked here for centuries. Twentieth century mountain climbers and their successors based out of Courmayeur and Chamonix are celebrated for their daring summit successes. One can understand how this place would be the centre of alpinism in the world. For the rest of us, it is enough to gaze up and appreciate it from a distance.
In late June, the wildflowers are at their peak, and the glacial melt is in full force. Unique and endearing to the Alps is the melodious sound of cowbells – world-famous cheeses of the Haute Savoie are the result of grazing on the high meadows. Tomme, Beaufort and Reblochon cheeses are featured in specialty Savonard fare of fondue, raclette, and tartiflette. Hikers don't have to worry about being hungry here.
While the suggested route starts in Les Houches, France (near Chamonix) and goes counter-clockwise back to the point of origin, my partner and I started our hike in Switzerland and walked clockwise. This turned out to be a good decision, as we hardly saw anyone on the trail after about 11 am.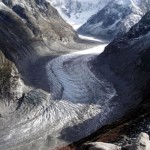 Hiking in Europe is such a delight, thanks to the massive infrastructure that is in place to assist walkers of all ages. There are many ways to enjoy a day in the mountains; the availability of trams, cog trains, and chair lifts ensures that anyone with a sense of adventure can enjoy the views from a mountaintop. By taking advantage of lifts and local buses, many of the challenging climbs are optional. In addition, the countless refuges spread throughout the region offer first class accommodation, meals and my personal favorites, cappuccinos and fresh baked deserts! If carrying a pack for 10 days isn't for you, take advantage of the expertise and services of outfitters who will take care of all the details so that you can concentrate on the scenery. This truly is one of the top ten treks of the world – be sure to add it to your bucket list.
When not hiking through the various mountain ranges of the world, Mary Jane Hammond makes her home in Canmore, Alberta and guides Boundless Journeys' tours in the Canadian Rockies.
To learn more about a fully supported and guided Tour du Mont Blanc with Boundless Journeys please go to the following page:
France, Italy, Switzerland: The Tour du Mont Blanc
About Boundless Journeys
Selected as one of the "Best Adventure Travel Companies on Earth" by National Geographic Adventure, February 2009; and as the #7 Best Tour Operator in the World by Travel & Leisure, August 2009
If diversity of adventure is what you are seeking, Boundless Journeys has trips to satisfy your most imaginative spirit. Offering worldwide adventure tours, featuring experiences ranging from wilderness treks to cultural journeys, we always find the hidden gems of each destination. Small group or private itineraries, memorable accommodations, and expert local guides define the signature Boundless Journeys adventure travel experience.