Walking tours and the finest foods
Traveling to a foreign country, you'll quickly spot the differences, the subtleties and the intricacies of a new culture. On a walking tour it's even more marked, as you get to engage on a personal level with your surroundings.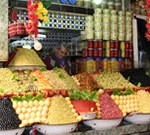 Food is an integral part of a country's culture, however it's not always the first thing you explore – we all sometimes keep to what we know and seek out familiar tastes: a big mistake! Foreign food is traditional, regionally specific and often thoroughly delightful! It's also not uncommon to find dishes and staple foods that are surprisingly similar to those from back home, just with a twist. Take bread for example: it's eaten all over the world, but in Botswana it is prepared as dumplings and flat cakes, now travel to India you'll commonly have it baked in a tandoori oven and sometimes stuffed with potatoes or minced lamb.
And yet, other dishes served up in local villages bear no resemblance at all to what we put in front of ourselves, so be prepared…

Key to the diversity of foreign dishes is the local herbs and spices, which we in the west only occasionally enjoy – and often just from a packet. A typical South Indian meal, for example, will finish with a selection of spices chosen especially to aid digestion: cardamom, cloves, arecanut and aniseed. Some travelers keep their distance from such gourmet delights: it is wise to take care in certain regions, especially if you know in the preparation the water wasn't boiled – and it's here the wise words of your local guide will prove valuable.
Here are some of the best local delicacies you could sample on an exotic adventure vacation:
In India try kormas, tandoori meals and biryanis.
In northern China ask for crab shell cakes, while if you travel to China and visit the southern provinces, you'll discover stir-fried dishes with elegant presentation.
Moroccan chefs favor lamb over all other meats, perhaps try a shish kebab (skewered marinated meat and vegetables).
Cebiche (Seviche) is a Peruvian favorite. It's raw fish marinated in lemon, with chilies, onions and garlic.
About Boundless Journeys
Boundless Journeys is an award-winning small group adventure tour operator, selected as one of the "Best Adventure Travel Companies on Earth" by National Geographic ADVENTURE, February 2009; and a "World's Best" tour operator by Travel + Leisure, August 2009.
With a diverse collection of locally guided, small group itineraries and Private Collection trips around the world, Boundless Journeys offers "The World's Great Adventures." The adventure trips for 2-16 guests are active, ranging from leisurely cultural explorations and wildlife safaris to challenging trekking in remote regions ― with plenty of easy to moderate walking and sea kayaking in between.