Airport Time: Tips to make the most of your travels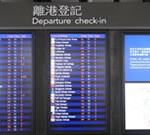 Travel should be fun: every moment of it. Especially when headed to one of The World's Great Adventures such as hiking in Italy, a safari in Botswana, or trekking in Peru.
That said, the farther our adventure journey takes us, the more changes and transits we experience. To travel to Tanzania, or to get to the start of a Nepal trekking tour, takes an international flight, or two. So, here are a few tips to help make the time spent in airports that bit more fun.
Line-busting
Do anything you can to avoid the lines; they are truly the fly in a traveler's ointment! Thankfully, most airlines let you check-in online, so take advantage of any of the online opportunities.

Arrive early
It always says you should "arrive at least two hours before take off" for international flights. Ideally, you get there just as the counter opens and are first in line. Although, realistically, there will already be a group of eager travelers already waiting; but early is always good.
Get those bags in quick
There's no way you can check-in 40lbs of luggage online. In the end, you have to check it in yourself. So, get rid of your checked baggage as soon as possible, take the weight off your shoulders and relax.
Get in line late
So you've found your carrier's desk and there is already many travelers waiting. Ask yourself: "Why stand in line, when I can get a coffee and relax?" A little unconventional, but why go through the stress when you can sit nearby, one eye on your magazine, another on the thinning crowd?
Think ahead
As John Candy found out to his cost, planes, trains and automobiles get delayed. So be prepared. If you're flying with lots of connections, you should be ready to spend a night in an airport. Those seats are rarely comfortable, still as an adventure traveler you should have some helpful gear to make your stay a bit more enjoyable.
Take supplies
Duty free shopping may be cheap, yet in airports regular goods are not always easy on the wallet. Instead of draining your funds, take a look in your pantry before you leave home – there's always fruit, water and snacks that you can take with you: keep your dollars for your return.
Traveling is a state of mind. If you can enjoy the journey, you'll always enjoy the destination…
About Boundless Journeys
Boundless Journeys is an award-winning small group adventure tour operator, selected as one of the "Best Adventure Travel Companies on Earth" by National Geographic ADVENTURE, February 2009; and a "World's Best" tour operator by Travel + Leisure, August 2009.
With a diverse collection of locally guided, small group itineraries and Private Collection trips around the world, Boundless Journeys offers "The World's Great Adventures." The adventure trips for 2-16 guests are active, ranging from leisurely cultural explorations and wildlife safaris to challenging trekking in remote regions ― with plenty of easy to moderate walking and sea kayaking in between.