Bhutan Tour Guide – Sangay Wangchuk
With many years operating tours to Bhutan, Boundless Journeys has developed an excellent local team that introduces guests to the many treasures of this special Himalayan Kingdom.
One of our guides, Sangay Wangchuk, was recently interviewed by National Geographic Traveler.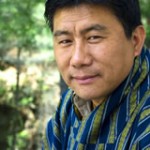 What is the key to being an excellent guide? Must have excellent knowledge about the region one is guiding. Must have enough experience and trainings to be a guide. The most important key is loving the job while creating a favorable environment for the clients, both physically and mentally. Can you briefly recount one of the most interesting encounters you've had while guiding? Many years ago I was just fresh in guiding. I took a group of trekkers in the mountains. A gentleman got altitude problems and insisted he got "Water in the lungs".  I insisted that he was suffering from altitudes. He asked me what I would do if he has water in his lungs. I told him that he should be held by his legs upside down. He was deeply upset. We are still friends now. We recount the story and laugh. On a serious note the incident triggered me to be a student and learn whatever there is to learn. Things like other names for anything. After that trip I knew pulmonary edema can be referred as "water in the lungs" too. As a guide we meet global people and it is important to be abreast with anything. How important is it to connect your guests with the local people and why? In my job, the local people are the resources. Part of my livelihood comes because of them. It is important to connect my guests with local people because that is the journey, the adventure and the dream for them to relish. To be connected to local people is the best hands on experience for the guests. That makes the trip valuable and also educates the guests to be responsible tourists. How have the expectations of American travelers changed since you've been guiding? Long time back Americans traveled in groups with an American trip leader. The travelers did not see the world through the local guide. So their expectations are what is written in the dossiers and what the trip leader tell them. Now I find American travelers more matured, adventure loving, ready to explore and experience. Like in the case of Boundless Journeys trips, guests enjoy traveling with a local guide more than with an American trip leader. Briefly describe one of your favorite places to show guests and why? I love the village walks. When we walk through the villages we are not rushed like on the treks. We stop, talk and walk. We come across so many things to talk about and experience on the village walks. Unless guests are physically challenged everyone loves village walks. How long have you been guiding? I have been guiding for the last 21 years. What companies (that market in the U.S.) do you guide for? I had guided for some US companies but more am occupied with Boundless Journeys. Boundless Journeys uses local guides and the trips are always personalised. I like being called the Boundless Journeys Guide because the learning on the trips are truly boundless. About Boundless Journeys Boundless Journeys is an award-winning small group adventure tour operator. With a diverse collection of locally guided, small group itineraries and Private Collection trips around the world, Boundless Journeys offers "The World's Great Adventures." The adventure trips for 2-16 guests are active, ranging from leisurely cultural explorations and wildlife safaris to challenging trekking in remote regions ― with plenty of easy to moderate walking and sea kayaking in between.