Botswana Wildlife Sightings – August 2011
Kalahari Plains Camp Many of the herbivores have moved out of the pans and into the woodland areas, in search of palatable vegetation and possibly some shelter from the energy sapping heat. What makes this interesting is that many of the predator species are territorial and now have to start extending and overlapping their territories so that they include prey species. A group of three lionesses has commandeered the waterhole in front of camp, which is a good opportunistic move as there is a constant flow of prey species coming to the water for a cooling drink. We know that one of the females has cubs as we can see that she is lactating, but up until this month, we have not seen the cubs. Whilst on a bushman walking excursion, which took us past the waterhole in front of camp and some thick clumps of vegetation, the group suddenly heard a low growl emanating from a clump of vegetation. The group stopped in their tracks and then slowly backed off. We returned shortly with a vehicle, and this is when we came across the young cubs for the first time. The two other adult females ran away, but the mother and her cubs sat tight, allowing us a great view of the cubs. During August, we had a number of different cheetah moving across the reserve. As the wildlife has spread more widely over Kalahari, the cheetah have no choice but to ensure their home ranges included resources, causing them to stretch their territories. We had a great sighting of a female and her cub, which we presume is around five months of age. Our highlight for the month was a great sighting provided by our resident honey badger that hangs around camp. We have seen this badger catching ground-nesting birds and a variety of arthropods, but he really did surprise us with his chosen meal on this occasion. The badger ambitiously took on a black mamba. It seemed like he had done this before, as he knew exactly where to attack and where to avoid. The badger swiftly attacked the snake and bit the head off before the snake could administer its lethal venom. Botswana: The Kalahari Desert At over 12 million acres, the Central Kalahari Game Reserve is one of the largest game reserves in the world. Located in a private concession bordering the remarkably remote Deception Valley, our camp offers substantial comfort in a remote wilderness. A multitude of antelope species and a variety of large predators call this area home, along with the charming honey badger and endlessly entertaining meerkats, and you'll have opportunity to get to know them all.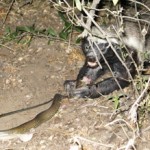 About Boundless Journeys Boundless Journeys is an award-winning small group adventure tour operator. With a diverse collection of locally guided, small group itineraries and Private Collection trips around the world, Boundless Journeys offers "The World's Great Adventures." The adventure trips for 2-16 guests are active, ranging from leisurely cultural explorations and wildlife safaris to challenging trekking in remote regions ― with plenty of easy to moderate walking and sea kayaking in between.