A Royal Wedding in the Peaceful Kingdom

Guests on Boundless Journeys' October Bhutan: A Journey into the Peaceful Kingdom tour are in for even a bit more culture and excitement than they planned for when joining us – there is a royal wedding to be had this month, and in royal fashion it will be.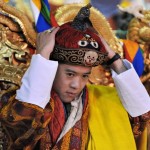 Of course, "royal" is much different in Bhutan than it is in more westernized countries. Elsewhere it might mean ice sculptures, ornate appetizers, and bloated bureaucratic guest lists. In Bhutan, however, it means local weavers coming together to elegantly outfit the soon-to-be-queen, an opportunity for all local residents to view the newlyweds at the local sports arena, a bit of special attention paid to historic gardens, and a focus on heritage and traditional dress (no foreign royals or heads of state were even considered in the invitations!).
Crowned in 2008 when democracy made its debut in Bhutan, King Jigme Khesar Namgyel Wangchuck will wed Jestun Peme, a student, on the 13th of October. The ceremony will be held at the beautiful Punakha Dzong, completed in 1637 and home to the current spiritual leader of Bhutan, the Chief Abbot Je Khempo.

Celebrations will continue until the 16th in the country's capital, Thimphu, where locals have been preparing in excitement since the marriage was announced in May.
The King has a love for mountain biking, basketball, and all things Elvis – he was educated at Oxford, and as Royal Spokesman Dorji Wangchuck (yes, they have the same last name – think "Smith" in the States) reported, "He has never been in favor of extravaganzas."
Boundless Journeys is thrilled to have our guests experience the country at such an exciting time. No, there will not be any tossing of the bouquet or any bad DJ's, but what there will be is a display of one of the proudest cultures in the Himalayan world, flushed with love and celebration, and open for all to share.
About Boundless Journeys
Boundless Journeys is an award-winning small group adventure tour operator. With a diverse collection of locally guided, small group itineraries and Private Collection trips around the world, Boundless Journeys offers "The World's Great Adventures." The adventure trips for 2-16 guests are active, ranging from leisurely cultural explorations and wildlife safaris to challenging trekking in remote regions ― with plenty of easy to moderate walking and sea kayaking in between.