Cultural and Natural Treasures of Peru
Working together, the FBI and the department of Immigration and Customs Enforcement have just returned two Spanish colonial-era paintings and artifacts taken from Peru's Moche, Nazca and Inca peoples.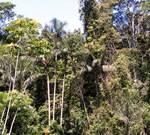 Culture, like travel, has the power to unite. So when the US government helps return Peruvian national treasures, it builds bridges not just between art galleries, but between travelers, too. After years of Inca rule, the Spanish colonized Peru in 1533 and it's from then the influence of the conquistadors can be traced. Traveling through the country, visitors have the chance to absorb and engage with the many cultural intricacies, but these are often over-simplified or bound to stereotype by more generalist travel.
From the Peruvian coast, which runs 1,509 miles around the underside of South America's western shoulder, to its eastern borders, there are three dominant land masses: La Costa (coast), La Sierra (dominated by the Andes Mountains) and La Selva (its rich rainforested center). Peru borders Bolivia, Brazil, Columbia, Chile and Ecuador. It also is home to the source of the World's longest river, the Amazon. Fed by tropical rains and the vast lake Titicaca, this snaking waterway is the country's artery, with dependent rivers, such as the Madeira, forming whitewater as they narrow.

The ancient civilizations drew from this source, in much the same way the flat northeastern Peruvian regions take from its tributaries today. With such dense rainforests, Peru inevitably attracted the attention of logging companies. It has however, keenly embraced environmental initiatives and lends itself to eco-tourism. Much of the Amazonian rainforest is unnavigable, leaving these sensitive 'lungs' free to breathe, and free from harm.
From its Andean mountain peaks, which climb skyward through billowing clouds, to its barren Atacama Desert, Peru retains treasures, both ancient and new.
Special ways to experience the treasures of Peru with Boundless Journeys:
Peru: The Sacred Valley and Machu Picchu

Peru: Trekking the Hidden Inca Trail
About Boundless Journeys
Boundless Journeys is an award-winning small group adventure tour operator, selected as one of the "Best Adventure Travel Companies on Earth" by National Geographic ADVENTURE, February 2009; and a "World's Best" tour operator by Travel + Leisure, August 2009.
With a diverse collection of locally guided, small group itineraries and Private Collection trips around the world, Boundless Journeys offers "The World's Great Adventures." The adventure trips for 2-16 guests are active, ranging from leisurely cultural explorations and wildlife safaris to challenging trekking in remote regions ― with plenty of easy to moderate walking and sea kayaking in between.