Turkey: Istanbul to the Turquoise Coast
Easter, for many, is a time of celebration and indulgence. Although while some take a well-deserved break from the humdrum of working life by staying home, others take the time to travel.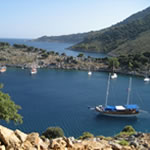 For those Europeans who jumped a plane to Istanbul, hand luggage only, the weekend break was likely to be a taster of things to come; a cultural aperitif. Visitors from farther afield will not be missing out, however. When they visit, they will take all the time they need to enjoy the main course. Physically, and symbolically, Turkey is the meeting point of west and east – further reason why it has such a strong draw for people looking to experience culture first hand. The continents of Europe and Asia join in Istanbul, without collision, and exchange histories, religions, goods, flavors and aromas. It is rich in every sense. For a short break, it's hard to see past the capital's towering spires and minarets. However, with a little more time to spare, it proves to be a portal to more independent travels. Sun-seekers and beach-dwellers can loose themselves along the appropriately named Turquoise Coast. While exploring inland from secluded coves and beach, they will find themselves deep into national parks and pre-bronze age history – underfoot are paths trodden by the Lycians some 4,000 years ago. Istanbul is perhaps the showcase for Turkey's talents. That said, private travels toward the country's central plateau and Capadocia are more rewarding. Here tourists enjoy a heady mix of history, etched into the rock-scape; a permanent impression of civilizations past. Istanbul, now accepted as the European Capital of Culture 2010, will no doubt draw many more sightseers. But it is those who strive to find more, who will discover the spice of Turkey's life. Boundless Journeys' Turkey: Istanbul to the Turquoise Coast tour showcases many of the cultural and natural treasures that makes Turkey such a fascinating country to explore; 2010 departures are June 13-25 and September 7-19. Join Our Inner Circle E-mail is the best way for us to let you know first about new trips, travel tips, special events, and current promotions. Sign up for our e-newsletter, e-mail your name and address to info@www.boundlessjourneys.com, or give us a call (800-941-8010) and we'll keep you in the loop! We respect your privacy and will never sell or share your e-mail address with any third party company, and our unsubscribing process is easy and prompt.