Eat Like a Local When You're On the Road
Sure, there are lots of ways to get to the heart of a new destination, but for me the route is almost always edible. Whether taking in the market view over a bowl of Cha Ca in Hanoi, sipping espresso at a café in Tivoli, or biting into a powdery beignet in New Orleans' French Quarter, food can tell you endless stories about a place, its people, and how decades (or centuries) of history have inspired the dish you're tasting right now. Or maybe you just need a snack. That's fine too.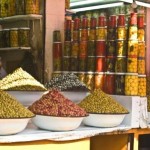 There's no end to the lessons available to the gastronomically adventurous, but uncovering what the local specialty is and the best spots to seek it out may not always be straightforward, and there are plenty of adventures to be had. That "bird's nest" dumpling on the dim sum cart you're hailing down in Hong Kong, for example, may be vaguely nest-shaped, but that's not the reason it got its name. It's actually stuffed with congealed swallow's saliva—which may in fact be fine with you. After all, bird's nest has been a delicacy in the city for more than 1,000 years. But it would be nice to know what you're getting into before spreading your…eh hem… wings. Here are a few, common-sense strategies that I've found helpful.
Do Your Research Before You Go
A cursory look at any reputable guidebook (Lonely Planet is a Boundless Journeys favorite) will give you a good idea of what dishes to look for. If you're into street food, map out the local markets near your hotel and ask your guide or concierge when you arrive if he or she has a favorite stall. Guidebooks will also recommend restaurants, but if your book is a few years old, you may miss new or under-the-radar spots, so cross-check against your favorite travel publications or newspaper travel sections as well. Food blogs written by locals or ex-pats are also a great, timely resource if you're headed to a city;  Saveur has put together a helpful list here.

Ask for a Second Opinion
Once you have your list of regional specialties and restaurants to try, ask your guide, hotel staffer, or friendly bus seatmate for his thoughts. He may know the best butcher's shop for Jamón ibérico in Barcelona, or will tell you that the money you'll drop at that pricey tapas spot would be better spent at the unmarked restaurant around the corner. Ask what he orders at the places on your list, and if he's a frequent flier, don't be afraid to get the full scoop: find out what days to visit, what table to book, how far in advance to make a reservation, and if the restaurant offers any local wines or off-menu dishes to try.
Save Room for a Game-Time Decision
Some of the best meals I've had while traveling were inspired by the whims of a moment: ducking out of the rain into an alleyway poutine shop in Montreal, or making a pit stop along Maui's Hana Highway for a Ziplock bag full fresh, machete-cleaved coconut. If you're shopping for street food or a local snack, lines are often a solid indication that there are good things happening within, and never underestimate the value of the old, "I'll have what she's having", ordering technique if you spot something appealing across the room. Keeping your eyes (and nose) open for unexpected opportunities will make your entire travel experience more interesting—and is likely to earn you at least a couple of postcard-worthy meals along the way.
About Boundless Journeys Boundless Journeys is an award-winning small group adventure tour operator. With a diverse collection of locally guided, small group itineraries and Private Collection trips around the world, Boundless Journeys offers "The World's Great Adventures." The adventure trips for 2-16 guests are active, ranging from leisurely cultural explorations and wildlife safaris to challenging trekking ― with plenty of easy to moderate walking and sea kayaking in between.