Change of Place: Guiding Our Vietnam Guide Around Stowe, Vermont
We stopped by Eldweiss general store and Deli on our way up to Mt. Mansfield, the highest mountain in Vermont. Elske enthusiastically hopped out of the car to poke around the store. She immediately went over to the beverage section and pointed to the 2-liter plastic coke bottles lined up on the shelf next to the cooler. "These are HUGE! I've never seen soda bottles this big before. Wow!" she remarked. This was Elske's first visit to the US and although she's a world traveler, she was completely baffled by the super-sized coke bottles. Elske de Vries has been Boundless Journeys' Southeast Asia guide for several years, and currently lives in Bangkok, Thailand. Having grown up in Stowe, and as the manager for our Southeast Asia tours, I was excited about the opportunity to guide our guide around my hometown during her whirlwind visit to Vermont.
It was fun to piece together a spontaneous visit for Elske, which included area highlights and gave her a true sense of my life in Vermont. After her arrival, a staff lunch at the quintessential Trapp Family Lodge, and an afternoon in the Boundless Journeys office, we kicked off our first evening with a home-cooked meal at my mom's house. As we enjoyed a feast of grilled fish and a fresh green salad with my parents and a few friends, it soon became apparent that Elske loved to eat— the perfect attribute for a Vermont tour.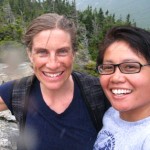 The following day we hiked in the misty rain up Big Spruce, one of my favorite trails situated on the ski resort. Elske learned about snowmaking and even got to touch some remnants of snow along the way. At the top, as we sat on the rocky outcrop overlooking Smuggler's Notch. As the clouds moved rapidly over the spine of Mt. Mansfield, Elske remarked, "I can see why you live here," and commented that the scenery and weather reminded her a bit of trekking in northern Laos and Vietnam. While traveling, it seems natural to try to make associations and seek familiarity in the newness of our surroundings.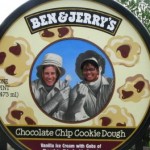 Following our hike, I tested Elske's adventurous spirit and drove her up the windy Smuggler's Notch road, carved impressively around boulders marking traces of the landscape's glacial past. Upon reaching the top, we peered up at the dramatic rock faces poised like a mountainous cathedral. "Are you ready for the local triathlon?" I asked, as I pulled my bike out of the car and handed her my helmet. Although the rain was coming down steadily, she hopped on the bike without hesitation and began the long, thrilling descent down the mountain road.
The next stop was Foster's swimming hole, a local favorite on hot summer days. After a quick and invigorating plunge into the icy, cold mountain stream, we set off to the Ben & Jerry's Factory. Elske was anticipating which flavors she wanted to try and mentioned that her friends and family would be envious. This was a must-do on her itinerary. Returning to Stowe, we stopped at the Cold Hollow Cider Mill for a taste of Elske's first cider donuts and apple cider.
Rounding out our full day of touring, we pulled together a spicy Vietnamese beef salad for dinner, which we shared with friends. The opportunity to show Elske around Stowe and introduce her to the people and places that make up my life in Vermont was an absolute privilege. For all of those times I have traveled to Asia, and have been in the excellent hands of  the guides there, it was fun to have the roles reversed and be the guide. I came to a place of deeper appreciation for all that  our guides do to ensure Boundless Journeys guests have the most unique and memorable experiences on journeys around the world.
Catching up  with Elske: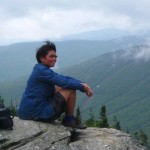 What surprised you most about your visit to Vermont? What was the most unusual thing you experienced?
It was May, but there was still some snow and even a tunnel like the Cu Chi tunnels in Vietnam, but colder, and cars stopped for pedestrians, no matter where they cross! Every culture has its own crossing policy. In New York City, you use the crossing but ignore the traffic light; in the Netherlands you are busy avoiding the bicycles; in Thailand, you cross whenever and where ever possible since nobody really cares about pedestrians; and in Vietnam, you just close your eyes, count to three, and go! Or wait until a Vietnamese crosses and go together.
What was a highlight for you?
Hiking with great company and enjoying the view from the top. Beautiful! Reminds me of how great it is to hike. I hope I can do some more hikes soon, in the US, Europe, Asia, anywhere—but Nepal is at the top of my list now for sure!
Did you have a favorite new food that you tried?
Warm, home-made banana bread with yoghurt, blueberries, and warm maple syrup for breakfast! All the food was great, but the people made it even better. I felt very welcome in Stowe and so happy to finally meet everybody at Boundless Journeys!  My mother will never believe we had lunch at the Von Trapp's Inn—"Sound of Music" is her favorite movie ever!
As a professional guide, what was it like being guided around?
Fun and very relaxing, with no need to worry about anything. I didn't expect it to be any other way since I was taken care of by Boundless Journeys!
Any other reflections or anecdotes?
Thanks to everybody, especially Matt, for inviting me to visit Stowe. We share a love for traveling! My visit to New York City and Vermont gave me the chance to spend some time outside Asia and Europe, something completely new. It gave me so much energy and it only confirms that traveling is like an addiction, once you start you never want stop!
About Boundless Journeys Boundless Journeys is an award-winning small group adventure tour operator. With a diverse collection of locally guided, small group itineraries and Private Collection trips around the world, Boundless Journeys offers "The World's Great Adventures." The adventure trips for 2-16 guests are active, ranging from leisurely cultural explorations and wildlife safaris to challenging trekking ― with plenty of easy to moderate walking and sea kayaking in between.