Guide to Scottish Beer and Food
As part of the experience of traveling and visiting a new and different place, I take every opportunity to try local cuisine, even if something is a bit out of my comfort zone! After my most recent jaunt to Scotland, I was able to try the top food for which Scotland is known, and then washed it all down with some great beer.
FOOD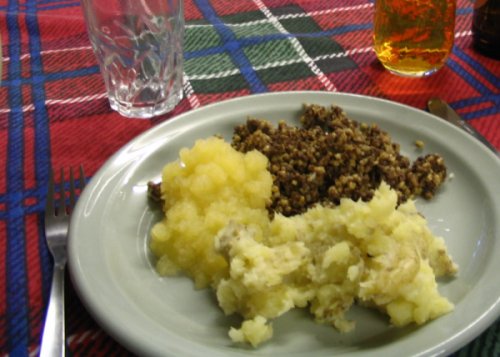 Haggis: Haggis has a bad reputation among foreigners. Honestly, minced up sheep heart, liver, and lungs mixed with onion, oatmeal, and spices doesn't sound super delicious. So, you're probably wondering why you should try it. While the mixture is traditionally prepared in a sheep's stomach, I never came across this in the two weeks I was in the country. I had it spread on toast with melted cheese, fried as a ball much like falafel, and piped on a cracker almost like a savory mousse.
You know what? It was actually rather tasty—like sausage filling with a much richer, savory, and nutty flavor. If you're not sure you want to eat a whole dish of it, why not order a plate for everyone to try. It is the national dish of Scotland, after all. And don't forget the "neeps and tatties" (mashed rutebega and potatoes)!
Cullen Skink: This is a wonderful fish chowder made with smoked haddock, potatoes, and onions. I had it twice, and it does vary a bit from restaurant to restaurant. One was a little thicker and creamier, the other was more of a milky broth. Both versions were excellent and served with hearty wheat bread. If you like New England clam chowder, you'll like cullen skink!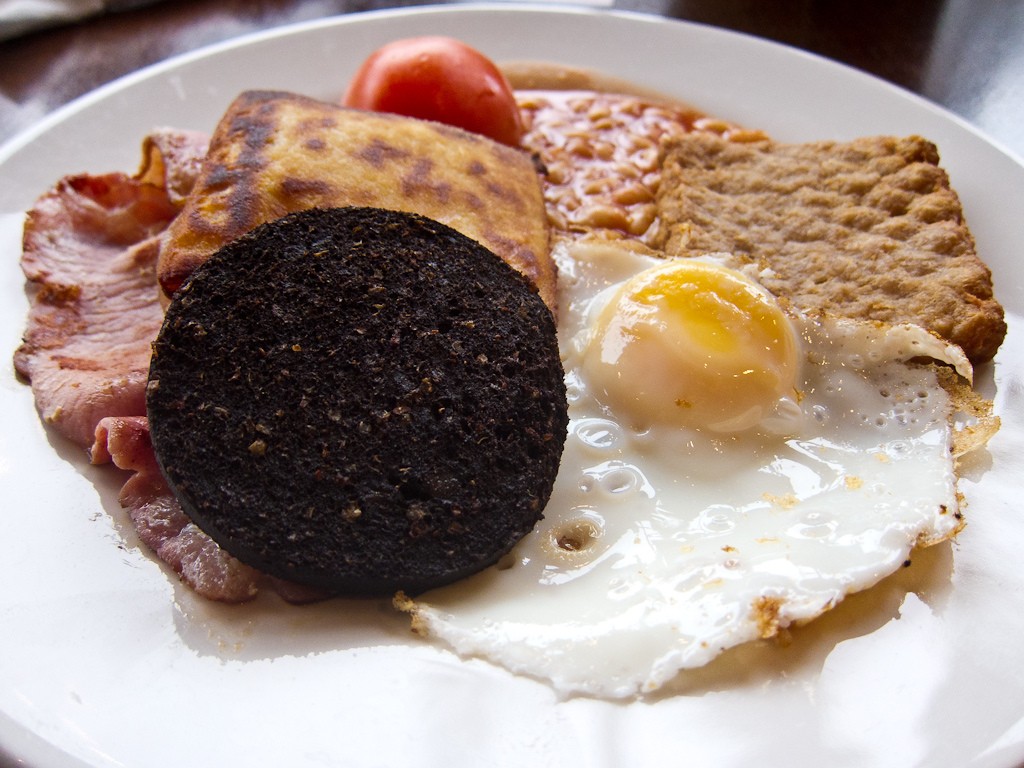 Black Pudding: If you get up the nerve to try haggis, then you must try black pudding. It's made from animal fat, oatmeal, and…blood. You'll usually find it cut into thick slices and fried as part of a traditional Scottish breakfast. As adventurous as I am with food, I must admit, this gave me pause. But when my normally-picky husband started eating it each morning with delight, I knew it had to be pretty good. As with haggis, I was pleasantly surprised. It's hard to describe the flavor—somewhat bready and buttery, not terribly meaty—but it is rich, like fois gras, and I could really only enjoy a few bites, perhaps why you only get a slice or two.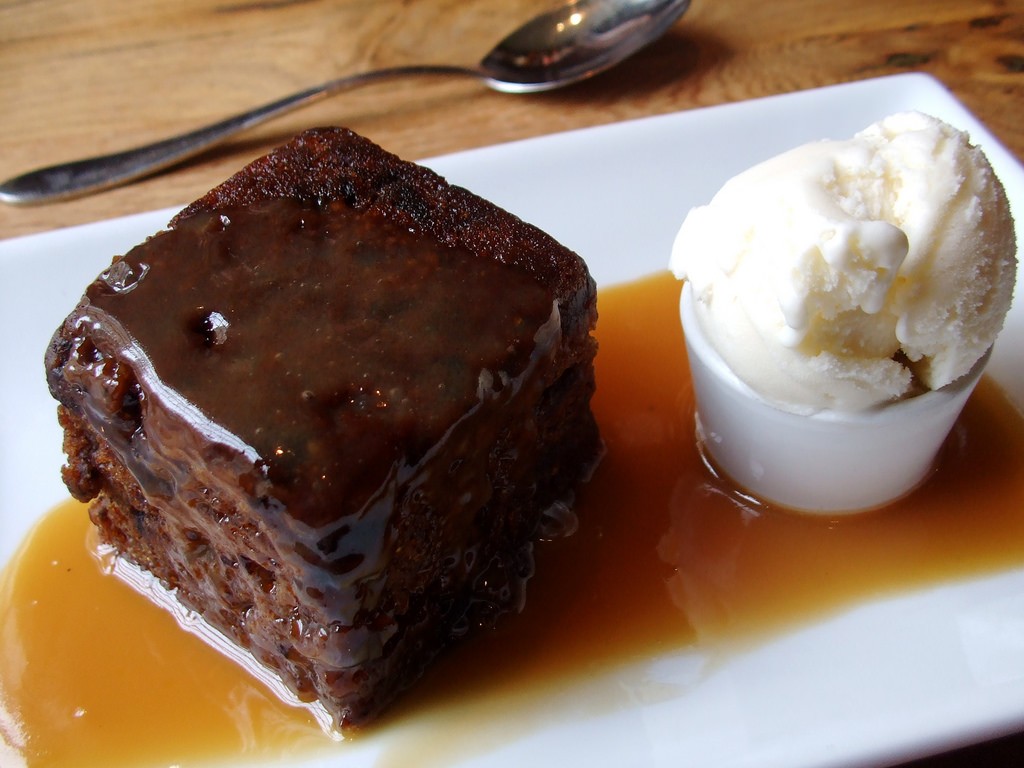 Sticky Toffee Pudding: First, let's clear something up—pudding, as we know it in the US, is called custard in the UK, while the same term in the UK is classified into savory (like black pudding or Yorkshire pudding) or sweet as in dessert. Sticky toffee pudding is a sweet, moist sponge cake (made with dates) that is warmed, covered with a toffee caramel sauce, and served with whipped cream or vanilla ice cream—sometimes both! There may be slight variations with ginger, bananas, or nuts, but plain is the standard. I ordered it every chance I got and was never disappointed.
BEER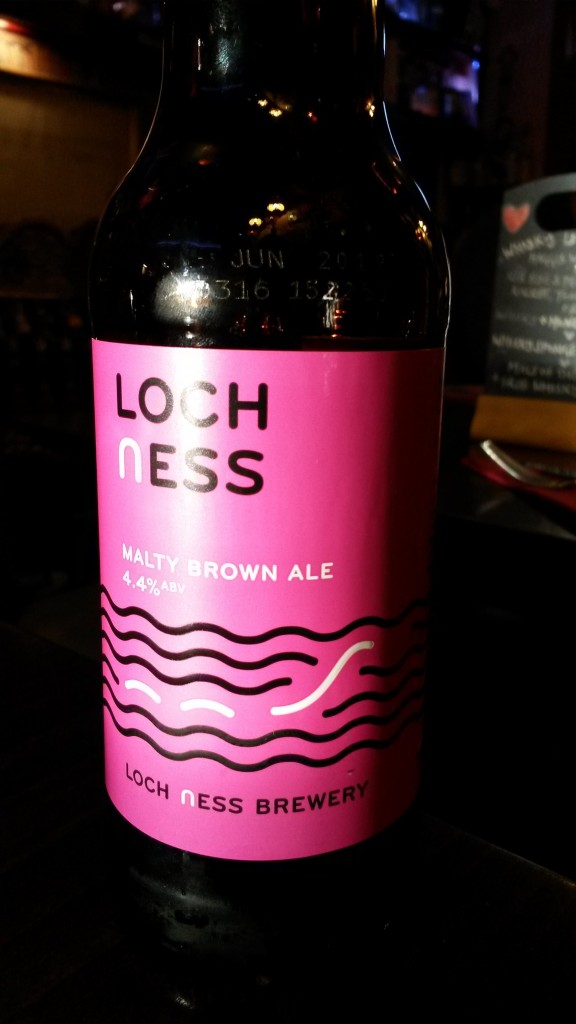 Lock Ness Brewery, Malty Brown Ale: This is a dark ale with just a slight bitterness to make things interesting. There's hints of coffee and chocolate with a roasted undertone at first, then a slight earthy flavor of root vegetables like parsnip. It's not very sweet and is very easy to drink. It pares nicely with red meat and fried foods as it has a cleansing affect. (I drank it with venison and onion rings!)
Magners Cider: Ok, so Magners Cider is actually Irish, but you'll find it all over Scotland. It's a light pinky orange, reflecting the 17 varieties of apples used in its production. Light and sweet, but not candy sweet, this is a great alternative if you're not a beer fan, or even if you are and want to try something different. At the front it reminded me of an Italian prosecco, at the back it became buttery and creamy. It has a long finish, is filtered, and just lightly carbonated.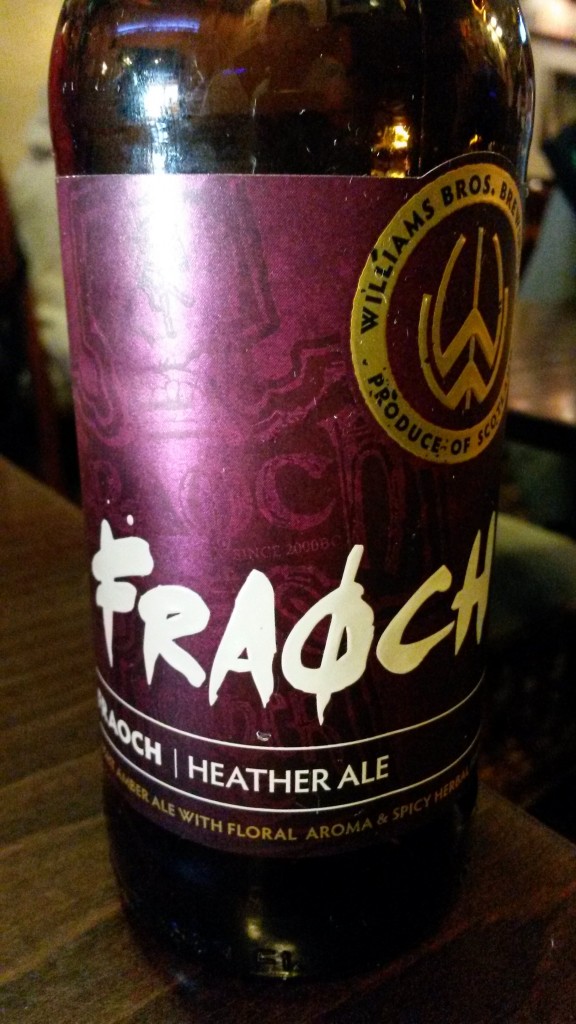 Williams Bros. Brewing Co., Fraoch: Fraoch (pronounced with a throaty "ogch" at the end) is a light amber ale made with heather, which grows abundantly in the Highlands and islands. Fraoch has been brewed in Scotland since 2,000 B.C., and this brewery is continuing the tradition. It is slightly sweet and malty, light and crisp, with clean top notes and an undercurrent of nutmeg and savory herbs. The finish is a bit "green" or vegetal. It's short finish makes it a very drinkable beer, perfect for a post-hike refreshment! This is the indispensable taste of Scotland. You literally are tasting the landscape—and it's delicious. It's not found everywhere, but it's definitely worth it when you see it on the menu.
Orkney Brewery, Orkney Gold: Brewed on the Orkney Mainland, this beer is a beautiful golden color, as the name would imply, with a strong head and clean nose. It's slightly hoppy, and has creamy and herbal notes, as well. It is refreshing and "delightfully uplifting," as my friend described it. It also has an exciting, long finish that vacillates between slight bitterness and slight sweetness.