How to Obtain Your Laos Visa
Are you headed to Laos on a Boundless Journeys private tour? Thinking of adding Laos to your Vietnam, Myanmar, or Bhutan trip? If so, you probably already know that you need a visa upon arrival. On my recent trip to Laos, I noticed a lack of signs in the border control area of the airport. Everyone just looked around wondering what to do and just followed the person in front of them. While this process seemed to work just fine, if you're like me, you like to have all the information and know what you're doing ahead of time, and at Boundless Journeys, we want you to have as much information as possible when you travel with us.
What you need: As of January 2017, you'll need at least $36 USD for US citizens and 1 passport photo, but double check the visa cost with your nearest Lao embassy at the time you travel.
The process:
On the plane, you'll fill out 2 forms: the visa application and the landing card.
In the arrival area, you will queue in the first line. Have your completed visa application, passport photo, and passport (with at least 6 month's validity) ready, and hand them to the official. He will direct you to the next line. Don't freak out that they took your passport. It's a bit disconcerting, but they are just processing the application.
In the second line, get your money ready. Give the money to the official, and you will receive your passport with the Lao visa. For US citizens, the visa fee is $35 + $1 "service fee". If you are a citizen of another country, there is a board with all the fees listed (The United Kingdom is listed under England), but you should contact your nearest Lao embassy to check on the current fees before traveling. If you don't have exact change, you will probably get change in USD. But if you're the first group of the day or they are simply running short on currency, they may give you change in Lao Kip.*
Next, you'll go to the next desk where you'll hand over your newly "visa'd" passport and landing card and have your photo taken for the government database.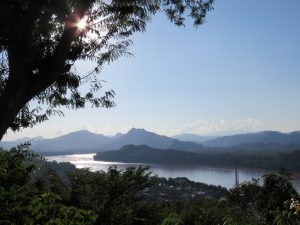 Congrats! You're cleared to enter the country for your Lao adventure. Exit to the baggage claim area, collect your bags, and assuming you have nothing to declare, walk out to the arrival hall where your guide will meet you with a Boundless Journeys sign. It's then a 15-20-minute drive to your hotel in Luang Prabang
*Tip: While the US citizen visa fee has been the same for quite some time, the Lao government could change it on a whim and not update anyone. Bring a few extra bucks just in case. You can also pay in Kip or Thai baht, but I've been told that the fee is more (once you do the exchange math) if you pay in those currencies. Most shops and restaurants take USD and Visa cards. If you do want local currency, you'll get the best exchange rate at a bank in town rather than the exchange "shacks" along the street near the Night Market.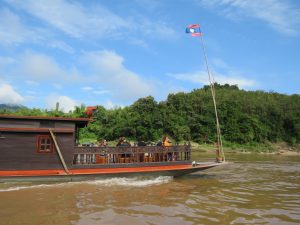 Not having been to Laos or Southeast Asia before, I really didn't know what to expect. While the first Lao people I encountered were serious, intimidating border officials, every other Lao with whom I had the pleasure of interacting was incredibly friendly and helpful. Of course, my guide offered a wealth of fascinating information and invaluable insight into the culture and history. And despite a bit of chaos with the visa process, Luang Prabang has a laid back vibe where riverboats float lazily down the Mekong, bicyclists pedal leisurely in town, and travelers can lounge on the porch of their hotel room before dinner.