On the Trail: Hiking Slovenia's Julian Alps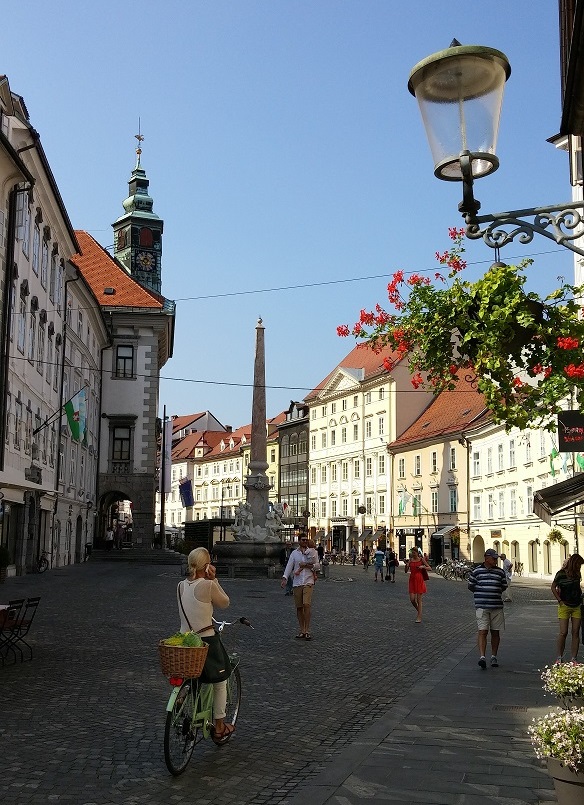 When I was given the opportunity to join our August Slovenia departure, I was excited but also wondered, "What exactly does Slovenia have to offer?" Answer: Everything! This mountainous little country packs a big punch as an active, adventure destination.
DAY 1
Our introduction to Slovenia started with a walking tour of the capital city of Ljubljana led by our knowledgeable guides Miha and Joze. Our hotel, conveniently located between two bustling pedestrian-only streets in the heart of Old Town, was within walking distance of many historic sites, including Republic Square where Slovenian independence was declared in 1991. If I had been walking the city on my own, I would have surely missed this unassuming plaza. This was just one of many times where our guides' knowledge and enthusiasm made Slovenia history really come alive.
DAY 2
Today, we summited Mt. Brda's peak at 6,590 ft. We started off walking through gently rolling pastures whose residents—grazing cows wearing cowbells—did not mind their photos being taken. We continued through thick spruce tree forests, and as the trail became more challenging, it opened up to beautiful Alpine scenery. We made our final push up the steep trail to the top and were rewarded with magnificent views and a delicious picnic lunch!
DAY 3
Today our group split with about half of the guests participating in an easier walk around the picturesque Lake Bohinj. Several guests rode a cable car up to the local ski resort to enjoy the views with a glass of Slovenian wine.
I joined the other half of the group on a hike to Double Lake in Triglav National Park. It was a long hike, but the stunning views and varying landscapes made it worth every step—pastureland dotted with old shepherd's huts and grazing cows, thick forests, meadows full of wildflowers, and the surrounding mountains in the background. We stopped at a mountain hut for a hearty lunch of traditional Slovenian fare—barley soup with sausage and homemade bread.
Upon returning to the hotel after completing our hike, we went out to dinner at a local restaurant and shared our day's adventures and photos with the other half of the group.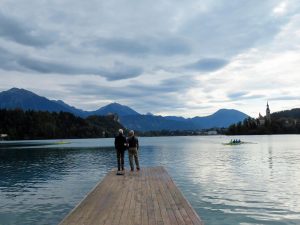 DAY 4
Our morning began with light rain, but the skies began to clear as we arrived at Bled Castle. Looking down upon the iconic scene of Bled Island with its white bell tower, our guides gave us a brief history of the lake and castle before we were on our own to explore.
We spent some time at Vintgar Gorge, then hiked along a ridge with beautiful views of the towns in the valley below. For lunch, we drove to the old, medieval town of Radovljica. The food at Lectar Restaurant was not only exceptional in flavor, but the presentation was also unbelievable—pumpkin soup served from a hollowed out pumpkin and apple gelato served from the hollowed out apple!
Then owner had one more treat for us—to the delight of the entire group, he brought out his harmonica and began playing! Full and happy from our meal, we made our way to the basement of the restaurant where a type of Slovenian gingerbread called "lect" has been made there for almost two centuries. We learned the history of lect and how it's made.
After some downtime in Bled, we transferred to Bovec along the highest road pass in Slovenia—the Vrsic Pass. This famous road, sought out by thrill seekers worldwide, is an old WWI supply road that runs right through the Julian Alps and contains a whopping 50 hairpin turns. During the drive our guides gave us a history lesson of Vrsic Pass and Slovenia, and before we knew it, we were at our hotel. The exquisite Dobra Vila has thoughtfully decorated rooms, each with a theme and room number with special significance.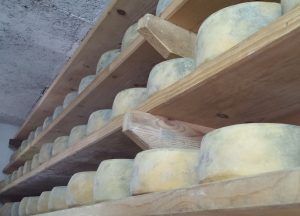 DAY 5
Today we explored the Soca Valley and visited with a local cheese producer. We sampled some freshly made cheese in our picnic lunch and then had a sobering visit to a WWI museum located in the charming alpine town of Kobarid. It was certainly informative, and we learned this small town's role in WWI. The evening ended with a phenomenal dinner at world famous chef Ana Ros's Hisa Franko.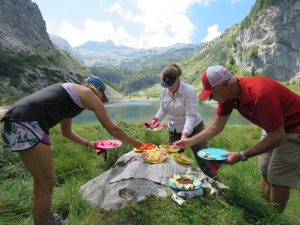 DAY 6
We had the option of choosing one of two hikes today. I opted for the more strenuous hike to Krn Lake. Of our three big hikes on the trip, this was the last and involved the greatest elevation gain. We hiked up steadily, stopping at a mountain hut for a quick break and refreshments. We had the lake almost all to ourselves, with few other people at this magical spot. We enjoyed a beautiful, sunny afternoon, with a tasty picnic not far from the lakefront.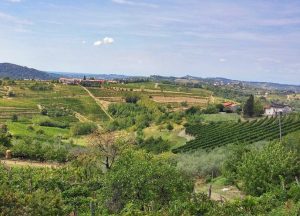 DAY 7
We were sad to bid farewell to Bovec today, but after a quick, easy walk to the hidden Slap Kozjak waterfall, we had a lovely drive to Klinec Medana vineyard. How quickly the scenery changed from quaint alpine villages to low, rolling hills covered with grapevines. This region, known as the "Tuscany of Slovenia," seemed a world away from the lofty mountain peaks of the Julian Alps.
We sampled several wines during our lunch and cellar tour before returning to Ljubljana. Our final dinner introduced us to a more Mediterranean-influenced side of Slovenian cuisine. We dined outside, under the warm summer night sky toasting our guides, our adventures, and Slovenia!