Iceland Special Opportunity
Only a few more rooms available for our Iceland: The Land of Fire and Ice hiking tour, July 17-24. Call 800.941.8010 or e-mail Karen@www.boundlessjourneys.com for details and to learn about special incentives to join us.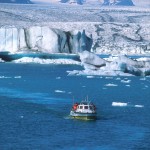 Iceland Hiking Tour Overview
Iceland is a land of contrasts more extreme than any place we've visited. Vast, desolate lava fields are interrupted by lush moss-carpeted valleys. Giant cascading waterfalls give way to vibrantly colored rhyolite mountains. From the other-wordly landscapes of the south coast, to the mystical power of Snaefellsnes Peninsula in the west, our overland expedition takes in the most beautiful and inspiring areas of Iceland.
Hiking on the south coast leads us through fairytale landscapes and past dramatic waterfalls, under the powerful presence of Europe's largest glaciers, while an amphibious boat trip brings us up close to icebergs. A visit to the site of the ancient Viking parliament, a glacier exploration, and an optional ride on the famed Icelandic horse round out our adventure. In between, we spend a day crossing the interior highlands of Landmannalaugar, soaking in hot streams and hiking colorful mountains – an experience not to be missed. Testaments to the constantly evolving earth are everywhere – lava fields, hot rivers, craters, and glaciers dominate our views daily. In the evenings, we return to comfortable accommodations and enjoy relaxing in "hot pots" (Icelandic hot tubs) or taking nighttime strolls under the midnight sun.

Iceland Hiking Tour at a Glance
Days 1-4: Meet in Reykjavik, Iceland. Hike past steaming fissures and tremendous waterfalls. Soak in a natural hot river and visit picturesque Vik. Hike above endless lava fields. View Vatnajökull, Europe's largest glacier, from one of our favorite trails. Explore an iceberg-filled lagoon by boat.
Day 5: Embark on an overland expedition through the fjallabak, or "route behind the mountains," taking time to soak in the views of Landmannalauger from the comfort of a hot river.
Days 6-7: Explore Thingvellir, both the historic setting of the world's first parliament and the best place to view the rift between the Eurasian and North American plates. Ride Icelandic horses on the beach at low tide, or hike to a beautifully shaped crater. Enjoy the inspiring presence of the mystical Snaefellsjokull during our explorations of the peninsula.
Day 8: Relax in the famed Blue Lagoon, a unique area of geothermally heated waters and mineral sands that offers a fitting end to our journey through the land of fire and ice.
Why trust your adventure to Boundless Journeys?
Boundless Journeys has been exploring Iceland for nearly 10 years. Widely recognized as one of the best travel companies anywhere (according to Travel + Leisure readers and National Geographic Adventure editors, among others), Boundless Journeys experienced local guides, first-class vehicles, and hand-picked selection of accommodations ensure that you'll have a great adventure – on and off the trail.
About Boundless Journeys
Boundless Journeys is an award-winning small group adventure tour operator. With a diverse collection of locally guided, small group itineraries and Private Collection trips around the world, Boundless Journeys offers "The World's Great Adventures." The adventure trips for 2-16 guests are active, ranging from leisurely cultural explorations and wildlife safaris to challenging trekking in remote regions ― with plenty of easy to moderate walking and sea kayaking in between.