Why I love small-group adventure travel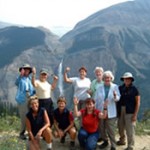 When helping clients choose their next adventure, I am often helping them choose between a private trip and one of our scheduled, small-group journeys. While there are plenty of great reasons to choose a private trip – if you have specific dates, it's your honeymoon, or you are taking the kids abroad for the first time – I more often lean toward suggesting a small-group, scheduled departure. It has nothing to do with the savings of traveling with a group, but everything to do with my travel experiences over the past decade of exploring the world with our clients.
While the focus of an adventure tour should be the culture, landscapes, and even wildlife of the region you are exploring, I have had the most memorable conversations with our guests over dinner at a remote safari camp in Botswana, while hiking the coast of Ireland, and on a relaxing cruise along the Nile.
Our travelers come from diverse backgrounds, and I've gotten to know architects and other moms, physicians and artists, and retirees whose "second lives" are just plain inspirational. While we come from very different places, we have in common a curiosity about the world and a desire to get past the surface of a place. Some become friends for years, and others simply add to the rich texture of my travels and say goodbye at the end of the journey. All of them leave their mark, though, and that is why I love small-group travel.
About Boundless Journeys
Boundless Journeys is an award-winning small group adventure tour operator. With a diverse collection of locally guided, small group itineraries and Private Collection trips around the world, Boundless Journeys offers "The World's Great Adventures." The adventure trips for 2-16 guests are active, ranging from leisurely cultural explorations and wildlife safaris to challenging trekking in remote regions ― with plenty of easy to moderate walking and sea kayaking in between.