Introducing Italy: The Amalfi Coast and Capri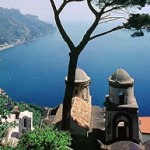 Enchanting towns that plunge into the sea, artisan-crafted pasta and fresh seafood, archeological treasures, and walks along ancient mule tracks with breathtaking vistas. Awaken your senses and feed your soul with Boundless Journeys 2012 The Amalfi Coast & Capri Hiking Tour.
We begin with a privately guided tour of the ancient city of Pompeii. After this glimpse into the past, we continue our journey to the hillside town of Ravello. This elegant town, located 1,200 feet above the Amalfi Coast, has attracted artists, writers, and travelers for centuries. From here we walk through citrus orchards, vineyards, small villages, and lush valleys to the towns of Positano and Amalfi.
Next we are enchanted by the picture-perfect Island of Capri. With walks to the highest point on the island, and the stunning Arco Naturale, we are afforded incomparable views of the Faraglioni rocks. We conclude our tour on the rugged Sorrento Peninsula where a Sorrentine cooking class provides us with the opportunity to cook with fresh, local ingredients and dine on our creations.

With local guides, spectacular scenery, and savory Mediterranean cuisine, we are treated to the very best this region has to offer.
2012 Dates: May 6-12, September 9-15, September 23-29; $4295 per person
For more information visit our Italy: The Amalfi Coast & Capri Hiking Tour web page, or contact our Italy Destination Manager, Deborah Tobey, at 1-800-941-8010, or deborah@www.boundlessjourneys.com.