Why planning ahead pays off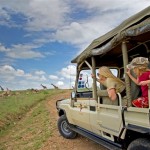 While I love a spontaneous spirit and enjoy the challenge of whipping up unforgettable, life-changing journeys at the drop of a hat, my years of experience planning customized African safaris for my clients has taught me that those who plan ahead benefit in many ways. This was vividly brought home to me this week as I helped one couple plan their dream honeymoon safari in Africa for spring 2012, and another plan a special Botswana safari to celebrate their wedding anniversary with less than three weeks notice.
The honeymoon couple has lots of time but is traveling on a budget that by African safari standards is limited. Since they are planning ahead, availability is still good at camps and lodges that offer exceptional value and great experiences. They'll likely be able to use miles for their international airfare, and ultimately they are going on a 27-day adventure through Southern Africa, blending adventurous camping in the Namib desert, luxury permanent camps in Botswana's Okavango Delta and on the mighty Zambezi River in Zambia, and diving with whale sharks from a romantic island lodge in Mozambique.

The anniversary couple with only three weeks notice has a very limited selection of camps. We've put together a great safari, but due to availability at this late date, we've had to arrange the camps in an order that isn't as efficient as it could be, so they'll spend more time transferring and pay more for their bush flights. They've also discovered they need new passports and are paying hefty fees to have the renewals expedited. Using their miles to get there? No chance. Will they have a great safari? Of course. Africa's animals, luxury camps, and scenic wildernesses never fail to deliver on the promise of the adventure of a lifetime.
In the end, both couples will have incredible trips that will be worth every penny in terms of memories and the experiences that will enrich their lives for years to come, but the honeymoon couple will be paying considerably less for it. And, they'll have the next eight months to enjoy the anticipation of their grand African safari.
Aside from our African Safaris to east and southern Africa, there are a few other destinations that require special early booking consideration:
Peru Tours: A few years back the Peruvian government limited the number of people allowed to hike on the Inca trail to 500 per day including porters. They permits sell out months in advance for the peak season especially. If that didn't make it challenging enough, the government has now limited the number of people allowed to visit Machu Picchu. No trip would be complete without a trip to Machu Picchu so if this on your travel wish list then please make sure you reserve your trip many months in advance.
Bhutan Tours: Bhutan is a very special and isolated kingdom in the Himalayas that few tourists visit every year. Not only is there a government quota of foreign tourists allowed, but there are only two planes that fly into the country. That's right, there are only two planes in the national carrier Druk Air's fleet. With limited flights, from limited cities, these seats in the peak seasons of March – May and October – November go very quickly and can fill months in advance.
Don't miss out, start your planning process early so that you will be sure to join us on one of The World's Great Adventures.
About Boundless Journeys
Boundless Journeys is an award-winning small group adventure tour operator. With a diverse collection of locally guided, small group itineraries and Private Collection trips around the world, Boundless Journeys offers "The World's Great Adventures." The adventure trips for 2-16 guests are active, ranging from leisurely cultural explorations and wildlife safaris to challenging trekking in remote regions ― with plenty of easy to moderate walking and sea kayaking in between.