Introduction to Lao Cuisine
I really didn't have any idea what Lao food was going to be like, but I assumed it would be a combination of Vietnamese and Thai since Laos sits directly between those two countries. Sure enough, Lao cuisine did not disappoint, and in fact, exceeded my expectations.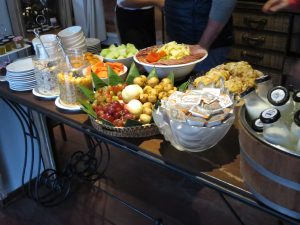 Breakfast at my hotel (the perfectly-located Burasari Heritage) was French-themed—cured meats and cheeses, baguettes, muesli, and amazing croissants—but all my other meals were Lao or a Lao-French fusion.
The first thing to know is that the Lao people like their food spicy. Luckily, chefs know that foreigners don't usually have the same heat threshold, so you can order dishes to your preference. Very helpful for someone like me who cannot handle much above mild.
If you like curries, you'll have lots to choose from with different combinations of vegetables, herbs, and meat or fish from the Mekong. As the town sits at the convergence of the Mekong River and one of its major tributaries, fish is frequently on menus. For vegetarians, the plethora of fruits and vegetables makes it very easy to avoid meat.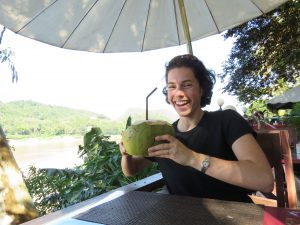 Coconut is in almost everything from the coconut meat in desserts to the coconut milk in curries. You can even sit by the river and order a coconut with a straw for some super fresh, unprocessed coconut water—yes, that's me! Other common ingredients are tamarind, fish sauce, lemongrass, papaya, pumpkin, and sticky rice, which is served with most dishes. Even sweets are made with it—the best dessert I had was fried banana cocooned in sticky rice and soaked in sweetened coconut milk—I dream about having that again.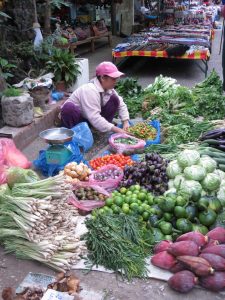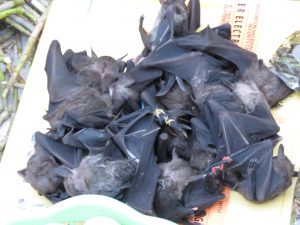 There are some very interesting foods at the morning market, which caters to the Lao population much more than travelers, and it doesn't get more authentic than this. It's best to walk around with your guide, as you'll learn about traditional dishes and ingredients. He or she can identify unfamiliar produce and explain their uses, like spicy wood for soups. You'll definitely come across more unique items such as bats, fermented fish stew, maggots and other bugs, and buffalo tripe, bile, and skin. No, I didn't try any of those, but many are believed to have medicinal properties.
If you want to learn how to cook some of the dishes you've been eating (well, perhaps not bat), you can certainly include a cooking class in your tour, as a number of the upscale hotels and restaurants offer them to rave reviews. You may learn to make traditional sauces, curries, the restaurants' signature dish, sticky rice, and a dessert. Morning classes usually include a market tour, afternoon classes omit that.
If you enjoy tea, try some Lao tea. Laos grows tea and coffee mainly in the south. I brought the office a sample box of some interesting (and quite good) flavors—baked green tea, smoked black tea, and lemongrass and ginger tea. Although not a coffee-drinker, I was told by my colleagues that the Lao coffee was excellent. Laos also produces their own beer, creatively named: Beerlao, which is one of the country's biggest exports. It is brewed with local jasmine rice and imported German hops and yeast, and it has won 3 international quality awards. Let me tell you, relaxing on my private veranda looking out over the river, after a day in the sunshine and humidity, a cold Beerlao was the perfect appetizer to dinner…as are the fresh-juice cocktails!
Looking for restaurant recommendations? There are many wonderful restaurants in the old town, but these are places I tried and highly recommend:
The Burasari Heritage restaurant
The Tamarind Café – make reservations or get there early!
The Bamboo Tree
Other restaurants that were recommended to me, but I didn't have a chance to try were 3 Nagas Restaurant, Tangor, and Blue Lagoon Restaurant all located in the old town.
I hope you enjoy the culinary delights that await you in Laos!