Keeping your travel gear secure on an Adventure Vacation
Most people, when they go on an adventure vacation leave the family silver at home. And considering all the hiking, trekking and adventuring in store, its best that you do so without your expensive jewelry or watches, too.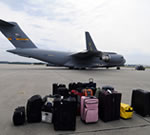 It's just common sense. But that's not to say travelers don't have valuable items in their luggage. In fact, when flying out for your Tuscany walking tour or to any destination, you are at a disadvantage: everything you need is probably in just two bags – even more reason then to protect them however you can.
Thankfully, pick pocketing and theft are infrequent and airlines are well schooled in handling your luggage. But what precautions can you take to protect your valuables when you're off on a hiking tour?
Here are a few tips:

Don't and do keep your eggs in one basket: This is especially good advice when it comes to carrying money. Keep cash on your person – in your front pocket and never your back pocket – and have a small reserve stashed in a separate location, perhaps zipped into a travel belt or tucked into one of your bags. Cash is always king when traveling, especially in the more remote regions. You can keep it in a hip pouch, a wrist wallet or a pouch around your neck. The most discrete, however, is the front pocket.
The advice is similar for travelers' checks: Keep them separate from your purchase agreement to avoid fraudulent use; don't countersign them; and treat them as if they are cash.
We've all been there: traveling to the airport, the last check before you leave the house goes like this: Wallet, passport, tickets, money, camera, phone, vaccination info, etc. With passports and tickets you have little choice but to keep them on your person. Once settled in, you have to decide: room safe or round your neck. You can minimize the amount of important paperwork you carry by booking on line. But loose your passport and you are going nowhere…
Don't flash the cash: Being seen as a tourist with money is a sure-fire way to draw unwanted attention. You can avoid this by first getting to know the currency, what it's worth, what each note looks like, and second by preparing the amount you need in private before you buy goods. This way, all your hard earned dollars won't be on display when you finally come to part with them.
Lock 'em up: There has been an increased interest in special baggage locks. There are mesh bags surround your luggage, locking with a regular padlock. They make it harder for thieves to break into your left luggage, but again draw attention to the value of the bag. While acting as a deterrent, this screams out 'I have valuables inside' and with this in mind, perhaps the thing best of all is to watch your bags like a hawk. Some bags have integral zipper or combination locks. A thief will think nothing of these, and will take a knife to the bags' fabric, rather than try a mission impossible code break.
Hard bodied cases are therefore more secure though more difficult to travel with on an adventure vacation. Duffel bags are perhaps the easiest to get in to, so if you are concerned about the security of these then consider a good quality mesh bag lock.
Get insured: For some tours it's optional, but for adventure vacations and hiking tours it's highly recommended. We're not just talking about accident coverage, but additional coverage to protect your credit cards from fraudulent use. Remember, cards should never be taken from your sight, and cover your pin number when you enter it after a purchase. Furthermore, before you board your international flights take down the international number to call if your card is lost or stolen. And speak to your card provider about which level of insurance you can have against fraudulent card use.
Hotel safes: Use them. If you are in anyway concerned about the integrity of the safe in your room, speak to the hotel staff to use the larger, more secure hotel safe.
Padlocks: Always good to pack a padlock. Great for public lockers in train stations, swimming pools and even to help you secure equipment. Pick the best quality you can: brass is best outdoors, although solid and alloyed steel are tougher.
Leave your keys at home: Why take your house keys hiking, when they will be better off with a friend or locked in a drawer at work? If you've no need for them, don't take them – they are just another thing to keep track of.
Four further security tips:
Keep bags in sight at all times. If you have to wander off, leave them with a travel partner. If you are traveling alone, they just have to come with you, period. Clearly marking your checked luggage may be a good thing as it helps you recognize it, but remember: it helps everyone recognize it!
If you have to wait in transit for a connecting flight and want to take a quick cat nap, loop a luggage handle or strap around your feet, and use one bag as a pillow, with one arm through the strap.
Keep your document wallet underneath your clothing until you need to use it.
Do not advertise you are a tourist: the more you blend into the background, the better.
Summary
Considering the millions of international flights each year and the thousands of people who take adventure vacations, it's only a very small number who lose or have things stolen. Take sensible precautions, and your Tuscany walking tour, Peru Trek, Galapagos Cruise, or Botswana Safari will be remembered for the irreplaceable memories you gained and not the items you lost.
About Boundless Journeys
Boundless Journeys is an award-winning small group adventure tour operator, selected as one of the "Best Adventure Travel Companies on Earth" by National Geographic ADVENTURE; and a "World's Best" tour operator by Travel + Leisure.
With a diverse collection of locally guided, small group itineraries and Private Collection trips around the world, Boundless Journeys offers "The World's Great Adventures." The adventure trips for 2-16 guests are active, ranging from leisurely cultural explorations and wildlife safaris to challenging trekking in remote regions ― with plenty of easy to moderate walking and sea kayaking in between.