Why use hiking sticks?
If you are considering trekking, hiking, or walking longer distances, comfort is everything.
Good boots, clothing that fits well, insulation layers and waterproof clothing are all vital to ensure your trip is a happy one. But what about hiking sticks? From Italy walking tours to Bhutan trekking tours, hikers are turning to them. So why bother? What do hiking sticks have to offer?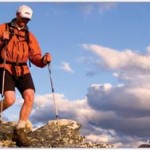 Well, the use of hiking stick is nothing new. In Austria and Germany they are traditional among people who live and hike in the country; they are often adorned with regional badges and are typically made from wood. The modern hiking stick however is an altogether different thing. High-tech construction and even suspension is integrated into these lightweight stabilizers. Hiking sticks are also known as trekking poles, hiking poles, and Nordic walking poles. They are essential for Nordic Walking – in this case, the technique of using two poles is the sport. But as a general hiking aid, poles are used to help distribute weight, for balance, and to help keep your footing on rough ground or loose surfaces.
For people with injuries – especially injuries to the knees – they really help take the strain from the lower body. They are especially useful when descending carrying a heavy rucksack – by reaching down with the pole it really helps increase confidence ahead of you placing your next step. Hiking in European regions, such as the Swiss Alps or Scotland's North West Highlands, the ground is often wet, with small streams crossing the mountain paths; much safer then to have a pole in hand.

Choosing and using a hiking stick
Your pole needs to be telescopic, so you can shorten it for ascents and lengthen it for descents.
Look for lightweight aluminum construction and comfortable grips – blisters on your hands will soon prove as uncomfortable as those on your feet.
Those with a choice of tip are best because you can vary it to suit the terrain.
Stick with the established brands. Remember, these poles have to take your weight, don't compromise on qualify.
To use, loop your hand through the fabric band found on the handle, and place the pole ahead of you as you walk; it should touch the ground the same time as your opposite leg does – so it's left foot and right hand forward. Then, as you go through the walking cycle and your pole is to your rear, push off with it to generate forward momentum, easy. With poles, most people agree that 'two are better than one, but one is better than none', so if you are packing or after new equipment, a pair could be a wise investment. Before each trip, considering taking a spare tip as they sometimes break. And afterwards, give your pole a quick service; just take it apart and leave it to dry.
Happy trekking!
About Boundless Journeys
Boundless Journeys is an award-winning small group adventure tour operator, selected as one of the "Best Adventure Travel Companies on Earth" by National Geographic ADVENTURE; and a "World's Best" tour operator by Travel + Leisure.
With a diverse collection of locally guided, small group itineraries and Private Collection trips around the world, Boundless Journeys offers "The World's Great Adventures." The adventure trips for 2-16 guests are active, ranging from leisurely cultural explorations and wildlife safaris to challenging trekking in remote regions ― with plenty of easy to moderate walking and sea kayaking in between.