Making a Small Difference – One Story from a Boundless Journeys Bhutan Guest
Often Boundless Journeys guests who are about to embark on one of our epic adventures around the world will ask the question, "what small item or gift can I bring to make a little contribution to the people and community of…?" This is a tricky question to answer, as there is no one way to go about it. In all of my travels, trekking the trails of the Himalaya and southern Patagonia, walking the red dirt pathways of East Africa, or visiting the golden temples of Southeast Asia, I have frequently found a stream of kids tagging along behind me begging for chocolate, bon bons, or sometimes money – something I have never felt I wanted to encourage or perpetuate.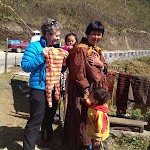 As destination manager for Boundless Journeys, in response to this question asked by guests, I often suggest that they bring a few photos of their lives back home to share with the local people. This will often facilitate a simple exchange and simply "break the ice", especially when there's a language barrier. It may generate laughter and curiosity, and they may learn a little about your life and vice versa.
Another suggestion I make is to buy some school supplies, like pens and notebooks (even in the country you are visiting if you don't want to carry from the US and that way you have a better sense for what schoolchildren in that particular country use), and bring these along to rural schools you may be visiting along the way (it is surprising how sometimes these most basic school supplies can be difficult to come by for children in remote areas). In this instance, your Boundless Journeys guide can facilitate how these donations are made to the schools.

I would emphasize that there's no one way to go about it, but the bottom line is you will be visiting these places most likely for two weeks or less – not enough time to make a huge difference, but enough time to create meaningful exchanges with the local people, gaining some insight into their lives and perhaps sharing a little bit about where you come from.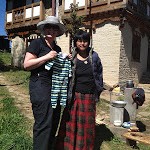 On this note, I'd like to share a tale from a recent Boundless Journeys guest who traveled to Bhtuan and how she made a connection with the Bhutanese people she met along the way. Jill Appleyad just traveled on our 12-day A Journey into the Peaceful Kingdom trip that is an active walking journey from Western to Eastern Bhutan. She brought along with her five baby outfits, donated by Baby Teresa, a clothing company out of Australia. As she walked the mountain trails to remote monasteries, visited rural communities, drove over high Himalayan passes, and visited schools, she donated the baby outfits to families along the way. Visit this link to learn more about her experience in Bhutan. Included are wonderful images and small stories about each family who became a recipient of these baby outfits.
I'd like to thank Jill for sharing, and thanks to Baby Teresa for the donations and enriching the experience for all of our guests traveling as a part of this group. I am always warmed to hear when our guests come up with creative ways of making a small difference in the lives of the communities we visit.