Going Green in the Galapagos
Boundless Journeys' strongly believes in choosing travel partners who support local communities and actively work to preserve cultural traditions and natural habitats. One of our valued partners in the Galapagos Islands, Ecoventura, is a recognized leader in responsible tourism through its core commitment to the on-going sustainability of the Islands.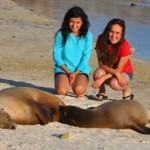 This fall Ecoventura launched a career shadowing program in partnership with The Ecology Project for high school students age 15-17 who live in Galapagos aimed at assisting them with career exploration by offering the opportunity to "shadow" an Ecoventura naturalist guide. Guides serve as mentors to the students in the field during a week-long cruise aboard one of the yachts in the fleet and provide a valuable link to motivate and encourage local students to choose a career as a professional naturalist guide. Additionally, Ecoventura, one of the "greenest" operators in the Islands, has been offsetting its carbon emissions since 2006; and that same year, in partnership with WWF, established the Galápagos Marine Biodiversity Fund to support environmental education and marine conservation. The company currently provides funds for a wide range of programs, including sponsoring environmental and conservation scholarships for local students, and the development of micro-enterprises for the wives of fishermen. Ecoventura's three yachts produce their own fresh water using reverse osmosis desalination units, and it also runs the islands' first hybrid yacht, MY Eric, which boasts solar panels and wind turbines.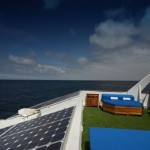 Because of their incredible natural beauty and unique wildlife, the Galapagos Islands have become an increasingly popular travel destination. You can rest assured if you choose to cruise to the Galapagos Islands on one of Ecoventura's yachts, the MY Eric, Flamingo or Letty, you will be doing your part to support the lasting preservation of this unique archipelago. As Charles Darwin said, "It's not the strongest of the species that survive, nor the most intelligent, but the one most responsive to change." Ecoventura is responding. Current specials on the Eric, Flamingo & Letty include: Cruise on the Eric, Flamingo or Letty January 20-27, February 10-17, March 3-10, March 10-17, or March 31 – April 7 and receive the following discounts: 15% off a dolphin deck cabin, 10% off a booby deck cabin, or 5% off an iguana deck cabin. Must be booked by December 30, 2012. To find out more visit our Galapagos Cruise Web page. *Discounts are for cruise only (does not include hotel in Quito or Guayaquil, Galapagos National Park fees, or internal airfare) and are available only until space is filled. Must be booked directly with Boundless Journeys and discounts cannot be combined with other offers or promotions. Discounts are based on double occupancy. About Boundless Journeys Boundless Journeys is an award-winning small group adventure tour operator. With a diverse collection of locally guided, small group itineraries and Private Collection trips around the world, Boundless Journeys offers "The World's Great Adventures." The adventure trips for 2-16 guests are active, ranging from leisurely cultural explorations and wildlife safaris to challenging trekking ― with plenty of easy to moderate walking and sea kayaking in between.