Palau: The Rock Islands' Secret Fleet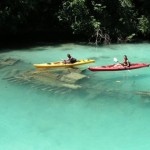 When preparing for a hiking tour, a trekking tour, or an adventure travel vacation, most people think to pack boots, and waterproof and fleece jackets.
Well, in some cases you might not need more than a bikini, trunks and a snorkel! In fact, if you are packing for travel to Palau, we would suggest these items be in your carry-on luggage as this Pacific archipelago has some of the most amazing azure-blue snorkeling sites on the planet.
Palau's Rock Islands are protected by a fringe reef, which leaves their seas calm and safe. Many of the islands are uninhabited, which further helps preserve the sanctity of these waters, although, deep underneath the surface, is evidence of a less peaceful past. Hidden out of sight, but easily discovered by divers and snorkelers, are the steel skeletons of more than 75 World War II-era Japanese warships. The Battle for the Pacific brought U.S. forces to these shores in 1944 when the first U.S. Marine Division landed at Peleliu ahead of a difficult campaign. As troops fought through caves and dense jungles, the battle out at sea raged on. As part of the assault, the U.S. launched bombing raids from aircraft carriers and it was these that finished off the Japanese fleet. Yet, now where you might expect to find only the shells of vessels, you'll find life; the Pacific has reclaimed the rusting hulks and covered them with a carpet of corals.

It is rare for snorkelers to have so much choice, a freedom shared by kayakers who can safely paddle from island to island. Exploring this way, you'll soon notice the large rock overhangs and cave entrances. Inland, there are further treasures to be found: recent archeological works have unearthed evidence of fishing communities dating from AD 250.
Now enjoying much more peaceful times, the islands of the Palau archipelago offer their own rewards and one of the richest marine environments in the world.
Palau: Oceania Odyssey: Explore Palau's unrivaled sea kayaking and snorkeling in the Rock Islands, paddle to hidden marine lakes, hike to waterfalls deep in the rainforest, and discover remnants of World War II archaeology.
About Boundless Journeys
Boundless Journeys is an award-winning small group adventure tour operator, selected as one of the "Best Adventure Travel Companies on Earth" by National Geographic ADVENTURE, February 2009; and a "World's Best" tour operator by Travel + Leisure, August 2009.
With a diverse collection of locally guided, small group itineraries and Private Collection trips around the world, Boundless Journeys offers "The World's Great Adventures." The adventure trips for 2-16 guests are active, ranging from leisurely cultural explorations and wildlife safaris to challenging trekking in remote regions ― with plenty of easy to moderate walking and sea kayaking in between.