Palau's Rock Islands joins the UNESCO World Heritage List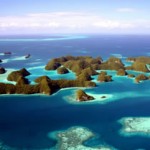 Every summer, UNESCO names new cultural and natural wonders to its World Heritage List for their outstanding universal value. This year's crop of new wonders includes the Rock Islands Southern Lagoon in Palau. Comprising the world's greatest collection of marine lakes (seawater lakes separated from the ocean), and a reef system with more than 385 species of coral, the Rock Islands sustain a large diversity of endemic plants, birds and marine life. Human traces stretch back more than 3,000 years, including 17th- and 18th-century stone working villages abandoned due to climate change and population pressure on the fragile ecosystem.
The Rock Islands and the surrounding reefs make up Palau's popular snorkeling sites such as Blue Corner, Blue hole, German Channel, and the famed Jellyfish Lake, one of the many marine lakes in the Rock Islands that provides home and safety for several kinds of stingless jellyfish found only in Palau.

Featured in National Geographic 50 tours of a lifetime, Boundless Journeys Palau: Oceania Odyssey includes world-class sea kayaking and snorkeling amongst the Rock Islands and hikes to hidden lakes and waterfalls.
For more information, visit our Palau Web page, or call our Palau trip manager at 800.941.8010. We hope you can join us for this incredible journey!
Upcoming featured departure: January 29 – February 6, 2013; Reserve by September 14th and save 10%.
About Boundless Journeys
Boundless Journeys is an award-winning small group adventure tour operator. With a diverse collection of locally guided, small group itineraries and Private Collection trips around the world, Boundless Journeys offers "The World's Great Adventures." The adventure trips for 2-16 guests are active, ranging from leisurely cultural explorations and wildlife safaris to challenging trekking ― with plenty of easy to moderate walking and sea kayaking in between.