Record Snow on the Tour du Mont Blanc – and a Job Well Done!
I had a once in a lifetime opportunity to ski the Haute Route this winter, a hut to hut traverse of the high Alps from Chamonix to Zermatt, with a small group of family and friends. To our pleasant surprise, we chose a year that was experiencing record levels of snowfall (the most in more than 30 years) which blanketed the mountains and valleys of France and Switzerland. The locals were abuzz over the extraordinary conditions, and as avid backcountry skiers, we had nothing to complain about.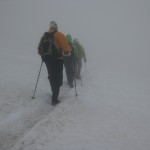 Fast forward two and a half months. Back at our home base in Stowe, Vermont, as manager for our Tour du Mont Blanc hiking trip, I recently bid bon voyage to our group scheduled to depart at the end of June. This fantastic and rewarding hiking journey, which circumnavigates Mont Blanc, takes you through the Alps of France, Italy, and Switzerland by foot. Although it is quite typical for groups to encounter some snow on the high passes in June, we were uncertain that the trip would run with all of the precipitation and wet weather.
I had been in close contact with our Boundless Journeys guide, Eric Thioliere, leading up to the group's departure. He informed me that everyone should be both physically and mentally prepared to hike on snow for three days, with the possibility of roping-in at times. To ensure safe crossings over the high, snow-covered passes, we decided to hire a certified mountain guide to join Eric in leading the group during the more challenging days. Luckily, Jean Villard was available, the same guide who led me on my Haute Route ski trip in April.

After filling our June guests in on the current trail and uncertain weather conditions, I felt confident that they were well-prepared and had the experience and positive attitudes to go for it. All last week, as our group made their way from inn to inn, I received updates from Eric, and although the pictures were mostly of our guests hiking in snow with limited visibility, I did not have cause for concern. There were smiles on the faces pictured and reports from Eric conveyed that spirits were high and that they were enjoying the relatively quiet trails and hardy meals along the way.
I would like to take this opportunity to give each of our Boundless Journeys guests who completed the Tour du Mont Blanc trip this June the recognition they deserve. Job well done!
About Boundless Journeys Boundless Journeys is an award-winning small group adventure tour operator. With a diverse collection of locally guided, small group itineraries and Private Collection trips around the world, Boundless Journeys offers "The World's Great Adventures." The adventure trips for 2-16 guests are active, ranging from leisurely cultural explorations and wildlife safaris to challenging trekking ― with plenty of easy to moderate walking and sea kayaking in between.