Boundless Journeys a Top 5 "World's Best" Tour Operator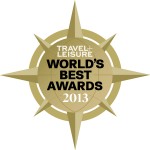 Greetings from Vermont! I hope that your summer is off to a wonderful start. Ours certainly is, as Boundless Journeys recently received exciting news. Every year Travel + Leisure magazine asks its readers to tell them which tour operators represent the very best in travel, and Boundless Journeys was nominated for the 5th consecutive year.
While it is an honor simply to be nominated, I am thrilled to report that Boundless Journeys has once again been voted among the World's Best Tour Operators! From a list of dozens of travel industry leaders who were nominated, Boundless Journeys was voted among the Top 5 in the world. The results of this prestigious award will appear in the August 2013 issue of Travel + Leisure and on travelandleisure.com. This is a tremendous honor, and a true testament to how well our dedicated staff serve our guests as they explore the world.

I would like to thank our team of expert guides (I believe there are none better), and dedicated home office crew whose passion for creating unique travel experiences that exceed expectations every time is without equal. Boundless Journeys' mission is to create outstanding travel experiences for people with an adventurous spirit, and the recognition of being named one of the "World's Best" Tour Operators is confirmation that we are continuing to achieve our goals.