Sicily walking tour in the Spring
Fascinating ruins of early civilizations and beautiful coastal paths above the turquoise waters of the Mediterranean are ours to discover on this walking tour of ancient Sicily.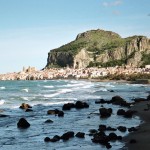 "In Sicily, I love the incredible variety of landscapes, the beaches, volcanoes, wine country, and the extreme intensity of its natural colors, the strong scent of spring flowers, the solemn, silent Greek temples, the exorcising richness of the pastry (because life can be sometimes bitter), and the great heart of the Sicilians."
~ Boundless Journeys' Sicily Guide, Alex Gullo
Sicily bedecks herself in early April. High pastures run to pink and purple clover, yellow mustard, blue flax, and bursts of red poppies. Almond trees bloom in the valleys, and the scent of orange blossoms is almost excessive. In spring, above all, vacationers have not yet invaded the island for their holiday on the beach. But one can dip into the blue, still-chill Ionian Sea and get a start on a suntan.
Join Boundless Journeys' April 18-25 Ancient Sicily walking tour and enjoy the full-blown Mediterranean spring, from Palermo to Taormina, and explore some 2,800 years of layered civilizations – Greek, Roman, Saracen, Norman, French, Spanish, and Neapolitan. For more information call, 1-800-941-8010, or visit our trip web page.
Join Our Inner Circle
E-mail is the best way for us to let you know first about new trips, travel tips, special events, and current promotions. Sign up for our e-newsletter, e-mail your name and address to info@www.boundlessjourneys.com, or give us a call (800-941-8010), and we'll keep you in the loop! We respect your privacy and will never sell or share your e-mail address with any third party company, and our unsubscribing process is easy and prompt.