The Island that Time Forgot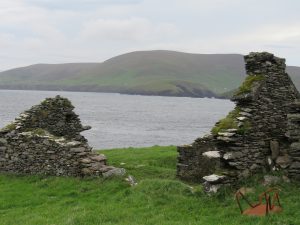 Often shrouded in fog, Great Blasket Island lies just three miles off the coast of the Dingle Peninsula. At the height of its population in the mid-1800s, around 150 farmers and fishermen eked out a life on its windswept slopes. That's where time stopped on Great Blasket.
As the rest of the world moved into the 20th century, islanders clung to their Old World ways—most with no electricity, no running water, no doctor, no priest, and—gasp!—no pub—often completely cut off from the mainland by inclement weather. The residents spoke Irish and even became the subject of linguistic studies, as they spoke an older version of the language. Each family owned some livestock, usually a cow and a few sheep, and a plot of land to farm.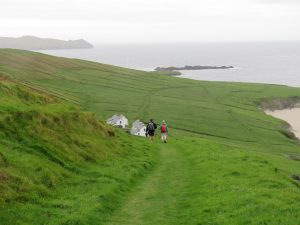 Despite the remote location and relatively isolated nature of life here, Great Blasket gave the world three of Ireland's most famous writers, Peig Sayers, Maurice O'Sullivan, and Thomas O'Crohan. Sayers' home has been restored and forms part of the island hostel.
As the younger generations sought life off-island, the population dwindled to just a couple dozen. It soon became clear to both the islanders and those on the mainland that life on Great Blasket was becoming unsustainable. In 1953, with the resigned support of Great Blasket residents, the government decided to evacuate the island. Islanders had to leave behind most of their possessions. The last few families were relocated to land parcels and cottages on the mainland.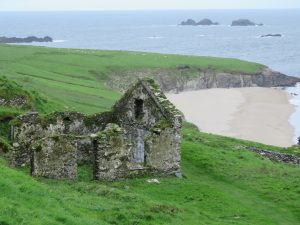 Today, Great Blasket Island is recognized as an important place of Irish cultural heritage. Visitors can take a ferry the short distance to walk amongst the abandoned stone cottages, envisioning what life might have been like on this spec of land in the ocean. Perhaps most exciting for guests on our Ireland walking tour, our guides, Pol and Marie, lived on the island for a short time and take pride in showing our guests their former cottage and telling stories of what life was like living there nearly alone.