Taking a Walking, Hiking, or Trekking Tour at Altitude
You should be in good physical condition before taking a walking, hiking or trekking tour; but especially when it is at altitude.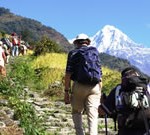 Our routes are not full-on mountaineering ascents, yet they do have some testing sections. How else can you view some of the most majestic scenery on the planet, without a climb or two? Ascending during a Nepal trekking tour, Peru hiking tour, or similar adventure can have its complications; as paths and tracks steepen, walkers can quickly find themselves at altitudes they have never experienced before. Thanks to expert local knowledge and fully trained guides, all our ascents are completely safe. We do, however, recommend you prepare physically and take a minute to better understand how altitude can affect people on an adventure vacation.
Leaving the U.S. you could easily be at, or near sea level. Arriving in the Nepalese capital Kathmandu you will be at 4,265 feet above sea level, or in Cuzco Peru at 11,200 feet. Yet no one bothered to tell your body!
As you increase altitude available oxygen decreases. This is something you can get used to by taking it easy until your body adjusts. Just a day or two at your new altitude and your body will be ready to get trekking. You could experience some lightheadedness and headaches, but these should pass, especially if you keep well hydrated – this includes drinking sufficient water even before the hiking starts. Food is also important. At altitude the body finds it easier to get energy from carbohydrates, than from proteins and fats.
At a good pace it's possible to climb a few thousand feet in a day. During our Nepal trek on the route from Modi River Valley to Ghandruk you will gain 3,130 feet in elevation. Having dropped your pack and enjoyed a cup of tea (Nepalese style with milk and spices) take a look at your altimeter – it will read 6,600 feet! On walking tours every step is worth it; each takes you closer to the snow dusted peaks that crown the world. Take care of yourself and you'll get to take the best travel photographs of your life.
About Boundless Journeys
Boundless Journeys is an award-winning small group adventure tour operator, selected as one of the "Best Adventure Travel Companies on Earth" by National Geographic ADVENTURE, February 2009; and a "World's Best" tour operator by Travel + Leisure, August 2009.
With a diverse collection of locally guided, small group itineraries and Private Collection trips around the world, Boundless Journeys offers "The World's Great Adventures." The adventure trips for 2-16 guests are active, ranging from leisurely cultural explorations and wildlife safaris to challenging trekking in remote regions ― with plenty of easy to moderate walking and sea kayaking in between.