Tales from the Trail: Amalfi Coast walking tour research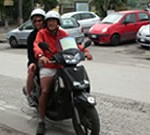 Having just returned from a scouting expedition to the Amalfi Coast I am continuing to digest the flavors, sights, and sounds that overwhelmed my senses. From the astounding landscapes dotted with countless lemon trees and azure waters, to the fresh seafood and pasta, and delightful towns built into rugged, towering cliffs, it is no wonder that artists and adventurers come here to quench their spirit.
My adventure began in the captivating town of Ravello, where nature and architecture combine to create a highly evocative atmosphere: villas are lined with cascades of wisteria, enchanting gardens surround ancient ruins, and the impressive Duomo and town square offer elegance to this charming town. Departing from Ravello, located 350 meters above the sea, trails offer endless views of the Tyrrhenian Sea. One afternoon, my local guide led me on a hike from Ravello through the small town of Pontone, all the way to the town of Amalfi. Along the way we were spontaneously invited into a trattoria for a wine and cheese tasting, as the restaurant owner and my guide embraced like long lost brothers.

After a couple of days in Ravello, I took the ferry to Positano – a spectacle from the sea. Multi-colored houses, seemingly piled on top of one another, cling to the coastline. I took time to amble through narrow streets lined with boutiques and explore secluded pebble- lined beaches.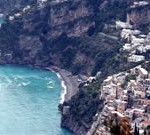 From here I continued my journey to Sorrento. Perched on an imposing cliff over the sea, this charming town holds onto its medieval and classical memories, while also preserving Renaissance and Baroque architecture. Citrus groves, vineyards, and lemon groves pour down the slopes towards the sea. Hikes here boast incredible views of the Gulf of Naples, Vesuvius and Capri.
Before I could consider my trip complete, I spent a day on the  island of Capri – a beguiling combination of earth, sea, sky and light. With marine grottoes, the Faraglioni rock formations off shore, Roman remains, the town of Anacapri, and endless shops, Capri has a lot more to offer than one day would allow.
Finally, a quick stop in Naples on my way home allowed me time to taste the extraordinary margarita pizza and explore the historic district of this colorful city.
With revitalizing air, the freshest food, spectacular landscapes, and historical charm, my trip to Italy's Amalfi Coast has left an indelible impression on me. I look forward to sharing my experiences with Boundless Journeys guests on our 2012 tour to the Amalfi Coast and Capri.
Look for details soon about our 2012 Walking tours of the Amalfi Coast, or send me an email ([email protected]) and I will keep you in the loop, and make sure you are the first to know!
About Boundless Journeys
Boundless Journeys is an award-winning small group adventure tour operator. With a diverse collection of locally guided, small group itineraries and Private Collection trips around the world, Boundless Journeys offers "The World's Great Adventures." The adventure trips for 2-16 guests are active, ranging from leisurely cultural explorations and wildlife safaris to challenging trekking in remote regions ― with plenty of easy to moderate walking and sea kayaking in between.