Tales from the Trail in Bhutan and Nepal

by Ashley Morton, Boundless Journeys Destination Manager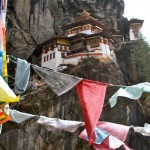 The only day it rained during my visit to Bhutan this past February was the day before I was scheduled to hike to Taktshang, also known as Tiger's Nest Monastery. This was the second to last day of my journey to this remote Himalayan Kingdom, coined as the land of Gross National Happiness and one of the last remaining Shangri-Las. As I fell asleep that evening, a fierce thunderstorm (quite unusual for the winter months) sounded overhead and left me wondering if I would perhaps miss the opportunity to see this most auspicious monastery, perched high amidst a cliff-side, shrouded in mystery and magic.
That night, I dreamt of tigers. It may have been because I was soon off to Nepal to try to catch a glimpse of this rare animal of the Terai jungle that borders India. Or perhaps my dream could be attributed to my long-anticipated morning adventure to the storied and sacred Taktshang. According to Buddhist legend, during the 16th century the saint Guru Padmashambava visited from Tibet riding a flying tiger to this site, bringing Buddhism to Bhutan.

The next morning I awoke at dawn to fog veiling the Himalayan peaks, yet bits of clear blue sky were beginning to poke through, and a fresh dusting of snow glistened on the surrounding ridge-tops. I hastily readied myself, and after some tea, I met Leki and Pema, my trusty Boundless Journeys guides. At this point I felt as if I had been lifelong friends with them, even though we had only known each other for a week.
We set out to Tiger's Nest meandering through a misty forest of conifers. The first mornings' light slowly replaced the rising fog, granting us the occasional glimpse of the imposing monastery, clinging to the cliff face 1,600ft above us. The prior nights' storm made sense to me at this moment. My goal to reach Tiger's Nest should feel intangible, as it is a sacred destination. People come on pilgrimage from far and wide to be in its' presence and receive blessings. After a couple of hours of winding our way up the mountainous trail, spinning prayer wheels along the way (Buddhists believe that doing so will give you positive merit in your next life), and eventually making our way around the cliff that cradles Taktshang, we finally arrived.
Entering the monastery courtyard, we wandered through its' maze of temples built inside of caves, passing shrines with burning incense and butter lamps, while listening to the murmuring prayers of monks' emanating from the earthen, whitewashed walls. As Leki and Pema showed me around and shared the story of the epic journey the Tibetan saint undertook, flying on the back of a tiger over the Himalayan peaks to land at this very place, I began to feel somehow that this was not just a myth.
Leki elaborated about how Tiger's Nest burned down from a butter lamp fire about 14 years ago. He mentioned that many valuable relics and statues were lost, but somehow the most precious of them all, the one of Guru Padmashambava, was salvaged – and not by human hands. According to locals, this statue miraculously survived by managing to escape the flames, moving to safety on its' own volition and subsequently returning to the original altar after the fire.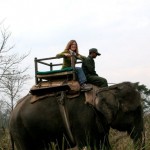 I left Tiger's Nest feeling awed by the stories and magic of the Taksthang. While concluding my adventures with our Boundless Journeys' team in Chitwan National Park, located in the southern Jungles of Nepal, riding on elephants searching for fresh Tiger prints, I could not help but muse at the thought of Guru Padmasambhava's journey flying over the Himalayan peaks atop a tiger to bring Buddhism to Bhutan. Few places remain on this planet where boundaries blur between myth and reality.
About Boundless Journeys
Boundless Journeys is an award-winning small group adventure tour operator. With a diverse collection of locally guided, small group itineraries and Private Collection trips around the world, Boundless Journeys offers "The World's Great Adventures." The adventure trips for 2-16 guests are active, ranging from leisurely cultural explorations and wildlife safaris to challenging trekking ― with plenty of easy to moderate walking and sea kayaking in between.