Tales From the Trail in Botswana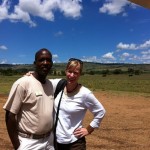 I have the best job in the world. Last month, for work, I was sent to visit some of Kenya and Tanzania's most spectacular areas, and discover their most exciting and classic safari activities. I went horseback riding, mountain biking, walking miles through incredible wild areas, and experienced some of the most unforgettable game drives ever. It was, in a word… awesome. All this so that I can come home and provide our travelers – you – with even better advice about where you should go on safari, when you should go, and the all important, WHY you should go.
For many, the huge continent of Africa is an intimidating mystery. If you only watch mainstream news, it would be easy to think that much of Africa is a dangerous mess, and that all of the wild places have been destroyed by careless management and the pillaging of Africa's natural resources. In truth, there are places where that has happened.
But there still remain immense tracts of unspoiled wilderness, full of inspiring wild animals, and dedicated naturalist guides striving to protect these great places for their kids and ours. It can seem like there is a huge disconnect between the incredible comfort of a deluxe African safari, and the challenging lives that many people in Africa lead. That brings me to WHY a safari is a great way to travel, and how tourism dollars can effect change in Africa.
Just one example of the change tourism dollars can bring to the local population is perhaps best told by my accomplished Maasai guide from Olonana Camp in Kenya's Masai Mara, Joseph Koyie. He shares his incredible story on the Web site for the school he co-founded, Loita Hills Academy, describing how as a Maasai warrior, he was mauled by a lion and ultimately inspired by his doctors and parents to seek out a different life. His career as a naturalist guide has allowed him not only to provide a more comfortable life for his family, but also has enabled him to co-found a school in his village, some 100 kms from the Mara, which now educates 300 local children who previously had few resources. It is an inspiring story – just one of many – and a great reason to consider travel to Africa.
About Boundless Journeys
Boundless Journeys is an award-winning small group adventure tour operator. With a diverse collection of locally guided, small group itineraries and Private Collection trips around the world, Boundless Journeys offers "The World's Great Adventures." The adventure trips for 2-16 guests are active, ranging from leisurely cultural explorations and wildlife safaris to challenging trekking ― with plenty of easy to moderate walking and sea kayaking in between.