Sea Kayaking and Snorkeling in Micronesia's Palau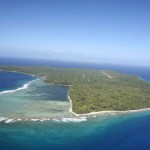 Imagine the whitest beaches you will ever see, gardens of coral just beneath the clearest waters, lakes filled to the brim with "sting less" jellyfish, forests, waterfalls and caves that have never been ravaged by man, and hundreds of islands of the purest beauty . . . this is Micronesia's Palau. Featured in National Geographic 50 tours of a lifetime, Boundless Journeys Palau: Oceania Odyssey tour includes 10 days of world-class sea kayaking and snorkeling, hikes to archeological wonders and hidden waterfalls, full-service camping on the Rock Islands, and deluxe beachfront lodging.
Often a highlight of the tour, our camping portion includes full days immersed in nature with the most experienced local guides and camp staff. Our days begin early as guests quickly fall into the habit of waking up with the sunrise and going to bed early after gently paced but full days of adventure. Coffee, tea, and biscuits greet us with the sun, followed by a sit down breakfast and a briefing of the day. After everyone has their bearings, we depart camp by kayak for a day of gentle paddling, calm water snorkeling, bird watching, caving, beach combing, and natural history talks.
A picnic lunch is typically on a secluded beach en route. After refueling we jump back into natural history touring for the afternoon, and generally return to camp in the late afternoon or early evening. The decision on when to end the day depends largely on the energy level and enthusiasm of the group. A grand reward at the end of the day, we indulge in a freshly prepared multi-course dinner served after cocktails and sunset on the beach. For those adventurers who are not ready to retire, we frequently offer excursions for night fishing, land crabbing, night snorkeling, or after dinner bonfires.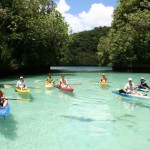 If this sounds like a bit of paradise to you, give us a call at 1-900-941-8010 to learn more about this epic adventure in Micronesia's westernmost island chain, or visit our Palau Web page by clicking here.
About Boundless Journeys
Boundless Journeys is an award-winning small group adventure tour operator. With a diverse collection of locally guided, small group itineraries and Private Collection trips around the world, Boundless Journeys offers "The World's Great Adventures." The adventure trips for 2-16 guests are active, ranging from leisurely cultural explorations and wildlife safaris to challenging trekking ― with plenty of easy to moderate walking and sea kayaking in between.