The 'Layer Principle' explained.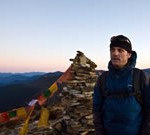 All seasoned hikers and travelers will tell you that having the correct clothing is essential. But sadly, just buying the best gear you can afford is no guarantee it will keep you warm (or cool).
Travel to Scotland and you'll find views similar to those of a Canadian Rockies hiking tour, and similar weather. So be prepared and apply the layer principle. The best clothing is often described as 'technical'. Simply, this means it has been designed for a set purpose or sporting activity. However, most important in getting the best out of hiking and trekking gear, is learning to wear it properly. The layer principle is 'the' established technique, tried and tested by explorer's and sports people the world over, to wearing outdoor clothing.
It's really easy to apply: You build up or reduce clothing in layers in response to the changing climate and your work level, based around these layers:

Layer 1: The Thermal Layer
Designed to keep skin dry by wicking moisture away from the skin and retaining heat. Tight, stretchy fabrics are preferred as are synthetic fibers, such as the much-lauded Merino wool.
Layer 2: The Insulation Layer
The warmth trap! Hikers commonly use fleece, and in colder extremes down jackets. Fleece is quick drying and traps heat thanks to its closely-knit fibers, while feather and down jackets help trap warm air.
Layer 3: The Waterproof / Protection layer
This is to keep out the wind and rain. Gore-Tex is the most recognized material for this job, although there are others on the market. The best jackets use multiple layers, and feature activity zones that stretch and offer protection where it's most needed.
But take care: Simply piling on the layers cannot guarantee warmth; at some point the trapped heat will escape, although good insulation will help you warm up quicker. So, if you still get cold, try some light exercise and you'll soon warm up. You will also really help yourself by wearing only the minimum number of layers you need to keep warm. This way, you can easily add more when you need them – just because you are warm in a down jacket, doesn't mean you couldn't pack it away and save it for when you really need it!
Keeping warm is easy: you simply add extra insulation layers. Cooling down is equally straightforward: you take them off.
About Boundless Journeys
Boundless Journeys is an award-winning small group adventure tour operator, selected as one of the "Best Adventure Travel Companies on Earth" by National Geographic ADVENTURE, February 2009; and a "World's Best" tour operator by Travel + Leisure, August 2009.
With a diverse collection of locally guided, small group itineraries and Private Collection trips around the world, Boundless Journeys offers "The World's Great Adventures." The adventure trips for 2-16 guests are active, ranging from leisurely cultural explorations and wildlife safaris to challenging trekking in remote regions ― with plenty of easy to moderate walking and sea kayaking in between.