Thinking of exploring Peru's famed lost city of Machu Picchu this summer? Plan ahead – permits are going fast!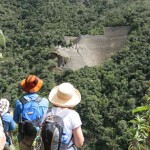 It happens every year, but 2012 seems even earlier than usual. Only 500 permits per day are issued for people to hike on the Inca trail into Machu Picchu, and already permits are sold out for almost the entire month of July. As of this writing in March, there is still good availability for August, but that is likely to change dramatically in the next few weeks.
Machu Picchu is undoubtedly the highlight of most travelers' exploration of Peru, and hiking in on the Inca Trail, whether on our 5-day trek, or the so-called "Inca Trail Express" a one-day hike that culminates at the Gate of the Sun, is an unforgettable experience that will stay with you for years. If you've been thinking of joining us in Peru this summer, please don't delay and risk disappointment – let us know now if you are considering a trip so we can keep you in the loop!
Peru: The Sacred Valley and Machu Picchu
Still available for 2012…

with the Inca Trail Express: August 19-26; October 7-14, December 23-30
without the Inca Trail Express: July 8-15
Or, consider Boundless Journeys' Private Collection departures, available on the dates that work for you:
Peru: Trekking the Hidden Inca Trail
About Boundless Journeys
Boundless Journeys is an award-winning small group adventure tour operator. With a diverse collection of locally guided, small group itineraries and Private Collection trips around the world, Boundless Journeys offers "The World's Great Adventures." The adventure trips for 2-16 guests are active, ranging from leisurely cultural explorations and wildlife safaris to challenging trekking ― with plenty of easy to moderate walking and sea kayaking in between.