Top on my "List" is Antarctica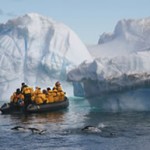 It's tough having perma-wanderlust. Regardless of whether I'm freshly back from some amazing adventure or completely desperate for anything remotely resembling a three day weekend, I can't stop looking ahead to where I'm going next. To help me narrow down a seemingly infinite world of possibilities, I have created my own "Bucket List" – places I must see or things I want to experience in my lifetime.
One place that is top on my list is Antarctica. The "white continent" remains a mystery to most and an object of curiosity for those of us who revel in the awe-inspiring beauty and overwhelming power of nature. Encountered by Shackleton, Amundson and Scott less than a century ago, this frozen wilderness still looms in all of its purity. Overwhelming wildlife, blue-tinted icebergs, and white snowfields stretching to eternity . . . there is no journey like it on the planet.

Beginning in 2012, Boundless Journeys will offer a 12-day trip to Antarctica on the Polar expedition ship the Sea Spirit. With a team of naturalists who are passionate about their subject, and zodiac outings bringing us close to an extraordinary array of wildlife, this spell-binding atmosphere provides an experience of a lifetime.
Before I had a child, I heard other parents say how fast the time passes. This made sense in my head, but I still cannot grasp just how much faster time passes since I became a parent. Of all the things on my "Bucket List," there are still so many I have not done. I realize that I may never get to fulfill all of my travel fantasies, however, my goal for 2102 is to cross Antarctica off my list. How about you?
If Antarctica is on your "Bucket List," please visit our trip Web page, or call 1-800-941-8010 to learn more.
About Boundless Journeys
Boundless Journeys is an award-winning small group adventure tour operator. With a diverse collection of locally guided, small group itineraries and Private Collection trips around the world, Boundless Journeys offers "The World's Great Adventures." The adventure trips for 2-16 guests are active, ranging from leisurely cultural explorations and wildlife safaris to challenging trekking ― with plenty of easy to moderate walking and sea kayaking in between.